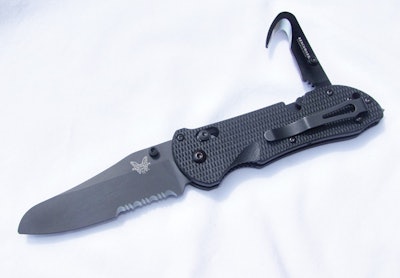 All of our duty gear has become increasingly specialized, and we're expected to carry more just to have the new basics on hand. In response, the crew at Benchmade designed a knife to meet the varying needs of police, EMS, search and rescue, or any first responder. The Triage rolls a blade, window breaker, and clothing/harness cutter all into one true clip-it-style knife.
Unlike any knife I have seen, the Triage is built to be used in close contact with body parts and not be a threat to the victim, yet still be a defensive knife. Its N680 blade is a modified sheepsfoot blade that is rounded so it will slide under a shirt sleeve. If you fear cutting a victim with the blade, there is a cutting hook that will make short work of seat belts, clothing, and rappelling harnesses.
To ensure the blade stays locked Benchmade uses its patented Axis lock. This small spring-loaded bar locks into place, essentially making the blade and lock one piece. Of the locking systems on the market this is one of, if not the, strongest available.
You will find the textured G10 grips give you a solid grip in any conditions, yet they will not abrade your clothing. The clip is reversible with the blade up and it is screwed into the frame so you won't accidentally pull out a screw. At the tip end of the frame is the window punch, which fortunately doesn't protrude far enough to puncture your hand while you're using the Triage as a knife.
I found the Triage to be a nearly perfect knife for daily use. It carries easily, cuts most anything you encounter on a daily basis, and it gives you the tools to extricate someone quickly from a vehicle should you be the first responder on scene.
5.11 Tactical/Viking Tactics: Training Books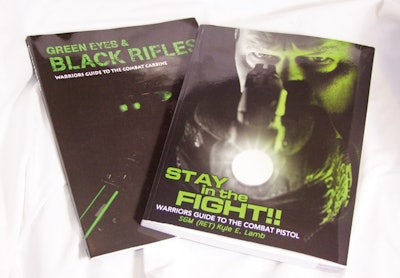 5.11 Tactical has become a one-stop shop for police, EMS, and military equipment and clothing. Among its vast offerings, two items that could be easily overlooked in the 5.11 Tactical lineup are two books on training and shooting by retired Army Sergeant Major Kyle E. Lamb of Viking Tactics (VTAC).[PAGEBREAK]
Lamb acts as a consultant to 5.11, providing input as to what will and will not survive the harshest treatment you can give gear. His two books sold via the 5.11 site are not to be missed. The first is "Green Eyes & Black Rifles," which deals with the AR series of rifles and their use and deployment. The second is "Stay in the Fight." It deals with handguns and their use.
These two books are two of the best laid out and thought out training books I have seen. They cover the details of presentations, selecting the type of weapon for duty, malfunctions, choosing support accessories and ones not to choose (and why), and even training drills to build your skills and comfort with the chosen weapons system. While these books will not replace hands-on training, they will augment your personal and agency training and deployment of your duty weapons.
What sets these books apart from others I have seen is the clarity of thought. Lamb uses the K.I.S.S. (keep it super simple) method that the military uses to train basic trainees and high-speed Spec Warfare Operators in explaining each topic. Additionally, the many photographs included in the book show you exactly what he is writing about. This is something many other shooting books don't do. Seeing the action you've just read about clarifies many issues and drives home the message.
"Green Eyes & Black Rifles" and "Stay in the Fight" are two books you should have in both your agency and personal training libraries. They will give you good information and a reference source to quote when you need one to reinforce a thought. You can order both of these books from 5.11 Tactical's Website.
Tactical Assault Gear: Tactical Go Bag
When it comes to bags and packs built to meet police and military needs, Tactical Assault Gear (T.A.G.) offers quality, innovative gear for duty, range, and casual use. What makes T.A.G. different from other companies is the folks who do the work; most of them are visually impaired. Not long ago T.A.G. partnered with LC Industries to allow visually challenged individuals to find gainful employment. They do this with the latest manufacturing and product technology. You get the best gear around while helping a person with physical challenges.
T.A.G.'s Tactical Go Bag is one of those innovative products that fits a myriad of needs. It can be an emergency call-out bag, range bag, duty bag, etc. This is thanks in no small part to its many pockets.
Numerous external pouches can be used to carry spare handgun or carbine magazines, expandable baton, radio, and general "stuff." The outer pouches are all hook-and-loop closed for easy access while keeping your gear secure until needed. The dual zipper main pocket and each side has a zipper mesh pocket to secure small items. The center of the bag is large enough to carry small binoculars, a gas mask, water bottle, or whatever other gear you need for a call out or shift.
Whatever you carry in the bag will be there when you need it. The bag is made from 1,000-denier Cordura and the handles wrap the body of the bag for durability. Tactical Assault Gear's Tactical Go Bag will serve you well on the city streets or wherever duty takes you, and it will do so for years to come.