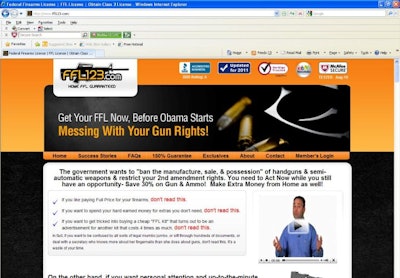 Web vendor FFL123.com is offering its online kit helping potential firearms sellers aquire a Class 2 or Class 3 Federal Firearms License (FFL).
The FFL123 Guide guides students through the federal application procedure and guarantees you'll receive an FFL or a 150-percent refund. The guide covers all nine FFL licenses.
Founder Brandon Maddox helps applicants through the process of obtaining a home-based FFL for personal firearms and ammunition purchases or to start their very own firearms retailing business. Many customers also add a Class 3 license so they can deal in silencers, machine guns, and short-barreled rifles (SBRs).
In the course, Maddox demonstrates his five-step process to get an FFL approved. The FFL123 Guide provides information on how to set up and which type of FFL is right for the applicant. After building a foundation, he addresses the key reasons and how to overcome home-based FFL denial.
Forms required to complete the application are included. Example forms are provided to help instruct the applicant about how to fill out the paper work. The guide covers local, state, and federal requirements including ATF pre-work requirements. Maddox gives practical advice for the ATF meeting and official interview process.
The FFL123 Guide prepares applicants for the application process, and Maddox also provides advice and aid in helping new FFL holders to become a valued member of the firearms industry through his trade reference. He'll help you set up your manufacturer and distributor accounts.
Maddox also helps customers build on the new FFL through obtaining different types of licenses such as a Class 3 or SOT dealer license. Silencers are the fastest growing and best margin potential of all firearms, according to Maddox. The Class 3 guide covers the silencer ownership and dealership aspects.