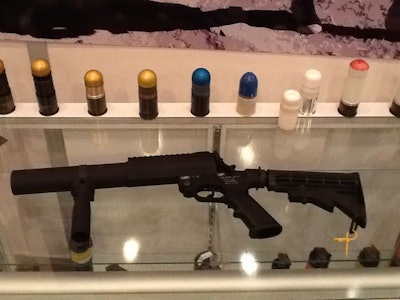 ALS Technologies rolled out a pair of less-lethal launchers in 37mm and 40mm at SHOT Show in Law Vegas that offer reduced weight, upgraded components, and greater customization to tactical officers.
The launchers, which were produced by Lewis Machine & Tool (LMT), will be exclusively available through ALS, a company rep told POLICE Magazine.
The launchers weigh 3.5 pounds (37mm) and 3.6 pounds (40mm), offering tactical operators one of the lightest-weight launchers on the market.
By partnering with LMT, distributor ALS upgraded its former launchers with higher-quality parts, including upgrading a trigger system that now contains only aluminum or steel parts. Smith & Wesson supplied the SA/DA trigger.
"In the past, launchers have had spongy triggers," Brian Luetschwager, an ALS product specialist, told POLICE Magazine. "There are no more plastic parts in the trigger group."
A small Picatinny rail attached to the foreend gives officers the ability to mount lights and other accessories in the three o'clock or nine o'clock positions. An ambidextrous sling mount and six-point stock are standard.
The launchers are rated for medium HE (High Explosion) stun munitions, according to the company. The launchers retail for $599 (37mm) and $699 (40mm).
By Paul Clinton