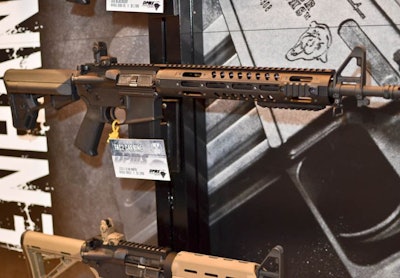 DPMS Firearms' Tac 2 incorporates a slew of Magpul parts and a full-length hand guard into one of the more talked-about 5.56mm carbines of SHOT Show.
The Tac 2 (RFA3-Tac2) is an enhanced version of the DPMS Panther Tactical (RFA2-C16L). The Tac 2 arrives with a collapsible Magpul ACS buttstock, MOE grip and trigger guard, a 4150 chrome-lined lightweight 16-inch barrel, a Panther flash hider, back-up iron sights, a full-length Picatinny upper rail, and the new M111 modular free-float rail system.
The M111 hand guard offers 45-degree rails between the full Picatinny upper rail and shorter rail sections on the right, left, and bottom. The longer rail allows officers to grip the front of the rifle near the front sight for greater stability.
By Paul Clinton