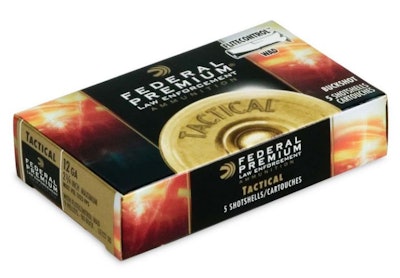 ATK's new Federal Premium #1 buckshot arrived at SHOT Show in Las Vegas as a hard-hitting shotgun round offering tighter patterns for law enforcement officers.
The shells, which have the company's FliteControl wad, give 12-gauge operators 15 pellets compared to 00 buck's eight pellets. The 2 3/4-inch shell carries a muzzle velocity of 1,145 feet per second, according to ATK.
In testing, the buck shot's pattern spread was 0.71 inches at 7 yards, 1.56 inches at 15 yards, and 4.63 inches at 25 yards.