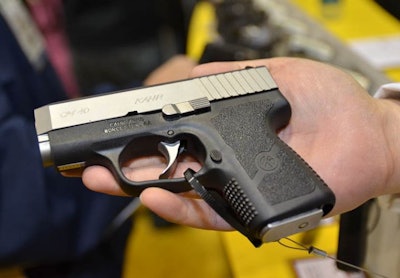 Kahr Arms introduced its CM40 polymer subcompact pistol at SHOT Show to deliver more punch to concealed carriers seeking a smaller weapon chambered in .40 S&W, a company rep told POLICE Magazine.
The CM40 is based on the CM9, which the company introduced a year ago at SHOT with a few differences other than caliber.
The CM40, which will be offered for about $450, costs about a third as much as its 9mm counterpart. The pistol offers one less round of capacity (5+1) and weighs 15.8 ounces unloaded. The CM9 weighs 14 ounces.
"It's our basic pistol that we've stripped of all the bells and whistles," a company rep said.
The gun arrives with a staked front sight and adjustable white-dot rear sight, so installing night sights requires a gunsmith.
Additionally, Kahr Arms updated its PM9 with an enhanced trigger that offers operators a shorter stroke.
By Paul Clinton