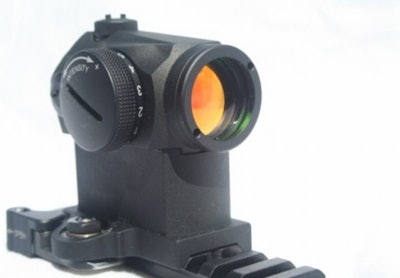 Aimpoint will introduce its 2 MOA Micro T-1 and Micro H-1 sights at SHOT Shot 2012.
The sights, which are available now, are the latest additions to the company's micro red-dot line that already includes the the 4 MOA Micro T-1 and Micro H-1.
"On a sight this compact, it isn't as simple as dropping a 2 MOA emitter into the existing package," according to Ralf Wiklund, vice president and technical manager at Aimpoint AB. "This modification required a sizeable investment in new technology in order to make the new product possible, but this new technology has also opened some new doors to us in terms of future product possibilities."
Both the Micro T-1 and Micro H-1 sights feature a design suited to withstand severe weather or environmental conditions. The sealed design of the Aimpoint Micro sight ensures that regardless of the environmental conditions, foreign matter won't come between the emitter and the lens. The product is waterproof to 25 meters, according to the company.
The Micro family of sights can be mounted on nearly any individual weapon platform including pistols, carbines, personal defense weapons, and sub-machine guns. The Micro T-1 is compatible with all generations of night-vision devices. The Micro sights are ideal for use Aimpoint's accessories, including the 3X Magnifier and Concealed Engagement Unit (CEU).
The Micro T-1 and H-1 can operate for up to five years of constant-on use with one CR-2032 battery, according to the company.