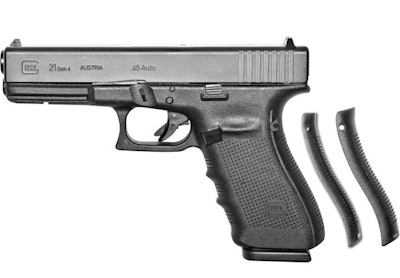 Glock will be introducing Gen4 versions of the G21 (.45 Auto), G32 (.357) and G34 (9mm) at SHOT Show next month, the company has announced.
A year ago, Glock representatives told POLICE Magazine the company would produce the pistols, yet didn't make any formal announcements. The pistols will all use the dual recoil spring system.
The new models will bring Gen4 versions of G21 (.45 Auto), G32 (.357) and G34 (9X19). The firearms manufacturer has already introduced Gen4 versions of its G17, G19, and G26 in 9mm; G22, G23, G27 and G35 in .40 caliber; and G37 in .45 GAP.
Glock improved the ergonomics of its pistols with the Gen4 line, by offering interchangeable back straps. Each Gen4 offers short, medium and large grip options that enable the pistol to fit an individual shooter's hand size. The straps can be added with a single pin. Additionly, the grip has also been given a new Rough Textured Frame (RTF) to increase grip traction.
Also, the Gen4 magazine release catch has been enlarged and is reversible for the ambidextrous shooter. To utilize the interchangeable magazine release feature, the Gen4 magazines have two notches cut on each side of the magazine body, allowing users to switch access of the catch to the left or right side of the pistol with no additional parts.
Previous magazines continue to work with the Gen4 pistols as long as the magazine release catch is left in its original position.