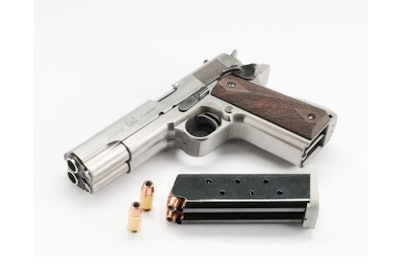 Arsenal Firearms has gained federal approval for its AF2011-A1 double-barrel 1911 pistol and plans to begin distributing the unique weapon in January.
The Italian firearms manufacturer gained approval on Nov. 14 from the Bureau of Alcohol, Tobacco, Firearms, and Explosives (ATF) to sell a pistol the company announced in March.
At first glance, Arsenal's AF2011-A1 looks like two 1911s fused together. It will be offered in .45 ACP.
Apex International of Middletown, Conn., will distribute the AF2011-A1 and a series of dedicated accessories beginning Jan. 1, according to an Arsenal release.
The company is also planning to introduce other double-barrel firearms at SHOT Show 2013 beginning Jan. 15 in Las Vegas.
Related: