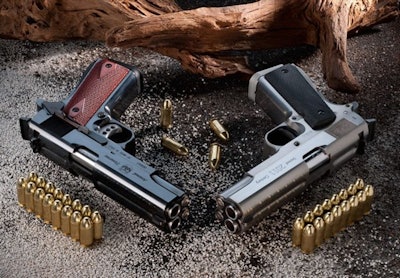 New Italian firearms manufacturer Arsenal Firearms has arrived with a bang, introducing a double-barrel 1911 pistol that fires two .45-caliber projectiles simultaneously.
At first glance, Arsenal's AF2011-A1 looks like two 1911s fused together, but a closer look reveals a more integrated platform that must have been a challenge to engineer.
Arsenal produced a demo video (complete with accompanying angelic chorus) that shows the firing of eight double-round .45 ACP rounds. In the demo, "4,000 grains of payload [are] sent downrange in about 5 seconds," a narrator says.
A comparible 9mm pistol would require about 30 rounds and several magazine changes to achieve the same result.
While this gun is unlikely to ever see use in law enforcement as a duty weapon, it's clearly an engineering marvel, and we wouldn't decline an offer to shoot one.
Related: