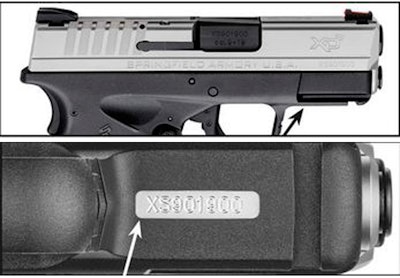 Springfield Armory has recalled its 3.3 XD-S subcompact pistol in 9mm and .45 ACP to prevent an unintended discharge occurring in rare circumstances, the company announced Wednesday.
The gun maker has found that the pistol can discharge during the loading process when the slide is released or could experience a double fire when the trigger is pulled once, according to a safety notice.
The recall applies to XD-S 9mm serial numbers between XS900000 and XS938700, as well as XD-S .45 ACP serial numbers between XS500000 and XS686300.
The company is advising owners to immediately stop using their XD-S and carefully unload it. Owners can locate the pistol's serial number on the underside of the barrel and visit this Website to begin the recall process.
Springfield will upgrade the pistol and new components and return it to owners.