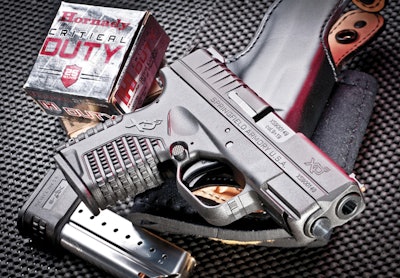 In the old days, police officers referred to the small semi-automatic pistols they carried concealed as "pocket rockets."
To understand the usefulness of these small concealable firearms, let's take a stroll down memory lane and review why law enforcement officers might want sub-compact handguns both on and off duty.
Generally speaking, sub-compact hand-guns have traditionally been used as backup and off-duty guns. A number of law enforcement officers who perform investigative duties also tend to carry more compact or sub-compact handguns while on duty. Sub-compact pistols are also widely used by undercover agents. Even supervisors and superior officers have been known to carry smaller handguns as they perform administrative duties.
Recently POLICE Magazine field-tested Springfield Armory's new sub-compact pistol: the 9mm Springfield Armory XD-S. This sub-compact pistol is designed to function with a single column magazine, and is a departure from the traditional pocket pistols that were available in the 20th century because the new XD-S is chambered in 9mm and .45 ACP calibers. Our testing revealed that the new XD-S can be easily classified as a sub-compact pistol or, as we said in the old days, a "pocket rocket." Take a look at the reasons why.
Field Testing XD Pistols
Over the years I have field-tested 11 different Springfield Armory XD, XDM and XD 3.8 pistols in 9mm, .40 S&W, .357 SIG and .45 ACP calibers. In addition to being flawlessly reliable and accurate, I have always found the entire lineup of XD and XDM pistols to have a very user-friendly, striker-fired trigger system.
I became even more impressed with the performance of the XD line of pistols when my XD .45 Tactical functioned reliably even when I covered this pistol with gritty desert sand. This test alone made me feel confident that the Springfield Armory XD was designed to meet the demands of armed professionals who operate under adverse conditions. However, up until the production of the XD-S, the XD Sub-Compact and the XD 3.8 Compact were the most concealable pistols in the XD lineup.
First Impressions Count
Even though I am a big fan of .45 ACP pistols, I was anxious to field test the 9mm version of the XD-S. This well-made and richly featured sub-compact pistol includes an impressive array of features: a 3.3-inch Melonite-coated barrel with a fully supported feed ramp, a forged steel slide with a corrosion-resistant Melonite finish, a dovetailed steel rear sight and fiber optic front sight, a polymer frame with steel guide rails and a heavily textured grip, a recoil spring guide rod that includes a standoff device, an ambidextrous magazine release, a grip safety that must be depressed when the pistol is gripped in order for the pistol to be fired, a loaded chamber indicator and an Ultra Safety Assurance Trigger System. And, the striker-fired trigger on the XD-S is superb.
The XD-S also accommodates two interchangeable back straps that change the ergonomics of this pistol. The 9mm XD-S is designed to accommodate a seven-round magazine that fits flush with the grip portion of the frame and a nine-round magazine with a finger extension. The .45 ACP version is equipped with a five-round flush magazine and a seven-round extended magazine. While the 9mm XD-S weighs 23 ounces unloaded with the standard seven-round, flush-fitting magazine, the XD-S .45 weighs 21.5 ounces unloaded with the standard five-round magazine.
Mags and Sights
The magazines on the XD-S appear to be of very high quality and are very easy to load and unload. When used with a seven-round magazine that fits flush with the grip portion of the frame, the XD-S fulfills its mission as a super concealable 9mm sub-compact pistol.
The XD-S is also designed for use with a nine-round magazine fitted with a black plastic extension collar. When loaded into the XD-S, the nine-round magazine with the black plastic extension collar fills in the space between the floor plate and the bottom of the grip.
Be advised that Springfield Armory recommends using the XD-S with the black plastic extension collar attached to the higher capacity, nine-round magazine in order to prevent damage to the extractor. If you are like me and find the high-capacity magazine to be more difficult to carry concealed, you should use standard seven-round magazines as your primary and spare magazines.
The Springfield Armory XD-S comes with a fiber optic front sight and a standard rear sight. Trijicon and Heinie also make night sights for the XD-S. Even though I am not a fan of the fiber optic front sight, I have to admit that the more I field-tested this pistol the more my eyes got adjusted to using the standard sights on the XD-S.
On the Range
Loading the XD-S with standard velocity Federal, Winchester, and Hornady FMJ and hollow-point ammunition, I was able to fire it about as fast as I have ever fired a sub-compact pistol while delivering a series of tight groups on a cardboard man-size torso target at a distance of 21 to 25 feet from a standing unsupported two-handed position. During the second range session, I used the XD-S to deliver a succession of head shots while firing 147-grain 9mm Federal FMJ, 135-grain Hornady Critical Defense and 115-grain Hornady Critical Defense ammunition from a standing unsupported position at a distance of 30 feet.
The Springfield Armory XD-S was tested with a wide variety of defense ammunition. And overall it was comfortable to shoot, a major concern for a lightweight sub-compact pistol with a short polymer grip. There was also no discernable difference as far as comfort under firing conditions between using the XD-S with the standard seven-round magazine and the larger nine-round magazine.
In my hands the 9mm Smith & Wesson M&P Shield was a tad more comfortable to shoot than the XD-S but not by much. However, once I operated the XD-S with the smaller of the two back straps installed on the grip portion of the frame, the XD-S became more comfortable to shoot. Other members of my test team expressed zero complaints about the level of recoil felt while firing the XD-S with different brands and bullet weights of 9mm ammunition.
Best of all, during both range sessions the XD-S proved flawlessly reliable.
Concealed Carry
During the evaluation I carried the XD-S in a DeSantis N87 Pro Stealth inside-the-pant holster as well as in a DeSantis Die Hard ankle rig holster and in an Uncle Mike's inside-the-pant Style 15 holster. Spare magazines were carried in a black leather DeSantis A01 double magazine pouch, and without a magazine pouch, in my weak hand cargo pants pocket. I also found the XD-S to be comfortable to carry in the right hand pocket of a pair of cargo pants.
The fact that the XD-S has a flat profile that accommodates a single column magazine makes this pistol very suitable for concealed carry. If you decide to adopt the XD-S, I strongly recommend investing in a DeSantis Die Hard ankle rig, especially if you plan on carrying the XD-S as a backup gun. If you carry the XD-S as a primary handgun or as an off-duty gun, I recommend purchasing an inside-the-pant holster for maximum concealment.
Regardless of how you carry a pistol like the XD-S, I also advise carrying two spare seven-round magazines. I also suggest inverting your spare magazine pouch on your belt as a way to limit the bulge or the "printing" of the magazine carrier against your clothing.
It Could Be Better
A city police officer, who also serves as a department firearms instructor, agreed with me that the ambidextrous magazine release on the XD-S test pistol was not as easy to depress and operate as the magazine release button on other pistols including other XD and XDM variants. I also prefer the fixed sights that are installed on other Springfield Armory XD and XDM pistols to the fiber optic front sight used on the XD-S.
Two of the three members on the test team who carry Glocks daily had difficulty shooting the XD-S without engaging the slide stop. Since I am very familiar with Springfield Armory XDs and XDMs, I had no problems operating the XD-S. However, it is necessary to use a punch to remove the small roll pin that holds the interchangeable back strap in position. Even though installing the small or large back strap can improve the ergonomics of the XD-S under firing conditions, I would like to see Springfield Armory provide a small punch and a few spare roll pins with every pistol to accommodate customers who change the back straps until they determine the grip option that works best for them.
My final criticism of the XD-S is its retail price of $599. Unfortunately, Springfield Armory has not established a law enforcement price for the XD-S at this time. In the end, only you can determine if the features of this well-made sub-compact pistol justify the added expense.
Final Analysis
If you believe firearms are tools of the law enforcement profession, then it is likely you also believe that different size firearms are needed to satisfy the variety of missions performed by sworn personnel. The Springfield Armory XD-S is a very well made, special purpose, concealed carry sub-compact pistol that is chambered in two substantial calibers. As long as you can qualify with a pistol like the XD-S, you should have complete faith and confidence in your ability to use this firearm to engage any threat, at any time, during any justified use-of-deadly-force situation.
Springfield Armory XD-S Sub-Compact Pistol Specs:
Caliber: 9mm
Capacity: 7 + 1 rounds
Overall Length: 6.3 inches
Barrel Length: 3.3 inches
Height: 4.4 inches
Weight (empty): 23 ounces
Trigger Pull: 5.5 to 7.7 pounds
Construction: Polymer frame, steel Melonite barrel, forged steel slide
Sights: Front, fiber optic; rear, dovetail
Magazines: Comes with two flush fitting stainless steel mags
Price: $599
Nick Jacobellis is a medically retired U.S. Customs Agent and a former police officer, who was physically disabled in the line of duty while working as a federal agent.
Related:
PHOTOS: Springfield's XD-S Pistol