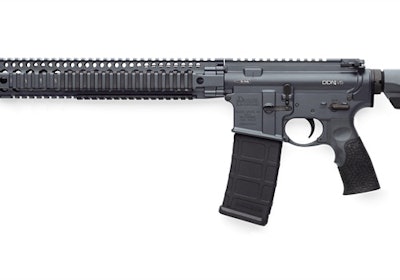 Daniel Defense announced the release of Daniel Defense Tornado (a shade of gray) at the 2014 NRA Annual Meetings & Exhibits in Indianapolis last week.
The Daniel Defense Tornado finish is the second new color option Daniel Defense has launched this calendar year. Mil Spec +, a flat dark earth variation, was first unveiled at SHOT Show in Las Vegas in January.
"When you look for a new car, you have substantially more color options than just black," notes Jordan Hunter, Daniel Defense's director of marketing. "Customers want choices other than the mil-spec Type III hard coat anodizing, or matte black, and the Daniel Defense Tornado, we believe, will be well received by our customers."
Consumers can expect to see the new finisg at firearms dealers and online beginning in July. Initially, Daniel Defense will offer the DDM4v5 and the V9 LW in the new finish, with additional models to be announced before the end of summer.
"We have kept this under wraps for quite some time and are excited to share this new signature color with our customers and fans," says Hunter.
Retail price for the first two Daniel Defense Tornado rifles will be $1,819, and will include the new Daniel Defense Buttstock and Pistol Grip, also new to the DD line of products for 2014.