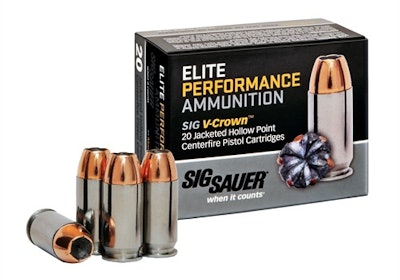 SIG Sauer Inc recently announced that it is now making premium pistol ammunition. Designed specifically for personal defense, SIG's Elite Performance Ammunition features a proprietary stacked hollow point bullet--the SIG V-Crown Jacketed Hollow Point--for reliable expansion.
The five introductory calibers and bullet weights are: 90gr .380 Auto, 124gr 9mm Luger, 125gr .357 SIG, 165gr .40 S&W, and 200gr .45 Auto.
"Every product SIG SAUER produces will have the same attributes for which our firearms are known around the world--reliability, accuracy, and unparalleled performance," said Jeff Creamer, SIG's director of product management. "This new Elite Performance Ammunition consistently delivers controlled, uniform expansion and terminal performance, round after round. We are excited to enter the ammunition market and will be adding additional bullet weights for pistols as well as rifle ammunition in the months ahead."
The proprietary SIG V-Crown stacked hollow point bullet features an additional smaller hollow point cavity behind the main cavity. This design, along with the V-shaped jacket skives, guarantees controlled, uniform expansion at all effective distances and velocities.
Another distinct advantage of SIG's Elite Performance V-Crown design is a toothed cannelure located halfway up the shank of the bullet. Its location more effectively locks the jacket and the lead/alloy core, providing maximum structural integrity in a jacketed bullet. This is key to achieving maximum weight retention and energy through impact by preventing fragmentation as the bullet mushrooms, ensuring optimal terminal performance. Brass cases are Techni-crom coated for enhanced lubricity, superior corrosion resistance, and reliable feeding and extraction.

Elite Performance Ammunition is being manufactured in the United States by SIG Sauer. SIG's custom designed loading equipment coupled with a proprietary loading process, and a complete hand and visual inspection of every round, continually produces ammunition of the highest quality. In addition to rigorous testing by SIG engineers, instructors at the SIG Sauer Academy have fired tens of thousands of rounds in the development of this new and exciting line of ammunition.

SIG Sauer Elite Performance Ammunition is now available to numerous large retailers and the company's SIGnature Dealers throughout the United Stat