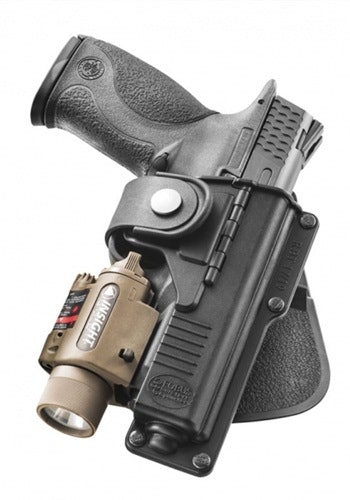 Fobus Holster & Pouches has introduced a holster option for handguns with lower rail or trigger guard mounted lights or lasers; the RBT Series Holster.
Constructed with reinforced polymer, the RBT holsters are lightweight and extremely rugged. Retention is provided by a leather thumb break and muzzle stud. The RBT holster is hinged for a natural, straight-up draw without impeding the attached light or laser.
The RBT17 model fits the GLOCK 17, 22 and 31 and the RBT 19 fits the GLOCK 19, 23, and 32 for an MSRP of $64.99. The Fobus RBT comes with the Fobus paddle that allows the holster to ride high and keep a low profile. As with all Fobus holsters, the RBT is maintenance free and comfortable for everyday wear.