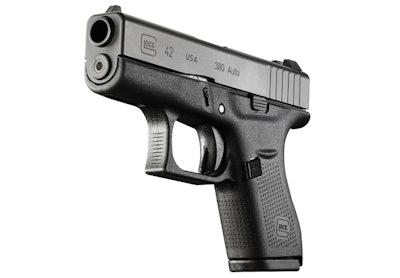 Glock pistols have long been available in service, compact, sub-compact, and long slide models with high-capacity and single-stack magazines in 9mm Parabellum, .357 SIG, .40 S&W, 10mm, .45 ACP, .45 GAP, and .380 ACP. But until recently very few Americans knew about or ever saw a Glock in .380.
In 1995 Glock introduced the G25 pistol in .380 ACP for sale in countries like Mexico, Italy, France, and Brazil where civilians are not allowed to own handguns in "military" calibers such as 9mm and .45 ACP. Because of ATF rules the Glock 25 and the subcompact G28 could not be sold on the U.S. civilian market and only limited numbers were brought into the country for sale to law enforcement. In addition, the Glock 25 and 28 had the same dimensions and weight as Glock's other compact and sub-compact pistols, which made no sense. Why carry all the weight and bulk of a 9mm, .40, or .45 for .380 performance?
In recent years we have seen an explosion of interest in .380 (9mm Short) pistols. And I believe there are four reasons why the .380 is now so popular in the American market:
• In the past, quality .380 pistols such as the Colt M1908 and the Walther PPK were of all-steel construction and were quite heavy. Today the use of alloys and polymers allows the manufacture of significantly lighter pistols that are practical for all-day concealed carry.
• Better propellants and high-tech jacketed hollow point bullets have improved the effectiveness of the .380 cartridge to where some loads approach low-end 9mm cartridges in performance.
• Increasing numbers of law enforcement officers now carry a backup gun while detectives often need a "deep cover" handgun and the small size and light weight of .380 pistols make them perfect for these tasks.
• The liberalization of concealed carry laws in many U.S. states has resulted in unprecedented demand for small, concealable handguns.
As more and more manufacturers began offering polymer frame .380 pistols Glock realized it was passing up a share of this growing market. The result was the launch of the Glock G42 .380 ACP pistol in January.
Single Stack
Glock's new G42 is shorter, narrower, and lighter than the G26/27 subcompacts. These more demure dimensions are a result of the cartridge it fires. While the G42 is a locked breech pistol, the lower operating pressures of the .380 cartridge allow the use of a smaller and lighter slide.
The G42 is a close range, personal defense handgun. One might almost call it a "last ditch" handgun. That's why Glock feels a high-capacity magazine is unnecessary and so, unlike most other Glock pistols, the G42 uses a single stack magazine, which allows the grip frame to have a much narrower cross-section.
I have said in the past that "A Glock, is a Glock, is a Glock…" and the G42 is no exception. It has all the Glock hallmarks. The slide has the usual squared-off profile and is fitted with a set of fixed sights, the front with a white dot and the rear a white outline. Internally, the G42 has a barrel with polygonal rifling and a recoil spring guide rod unit with three springs. A large extractor ensures that spent cases get out of the way quickly, and it has a lip on the end that extends past the slide when a round is in the chamber, providing a visual and tactile indication of the pistol's condition.
The one-piece polymer frame has Glock's new RTF texturing on the grip for a secure purchase even with wet or oily hands, the distinctive hooked trigger guard, and an oversize magazine release button. The slide reciprocates on four steel inserts in the frame while breech locking and unlocking is accomplished by the barrel being cammed up and down by a steel locking block in the frame above the trigger.
Like all Glock pistols the G42 is equipped with the "Safe Action" system, a fully automatic safety system consisting of trigger, firing pin, and drop safeties, which sequentially disengage when the trigger is pulled and automatically reengage when the trigger is released. No external safeties need to be manipulated before firing the pistol.
The only external controls on the G42 are the trigger, magazine release, and slide stop. The mag releases and slide stop mount almost flush with the frame, providing a smooth, snag-free exterior that is a big plus on a pistol that will probably be drawn from concealment. And you Southpaws out there will be pleased to know that the G42's magazine release is reversible.
The G42's single-column magazine holds six rounds of .380. With one in the chamber you have two more rounds than the traditional snubbie revolver in a handgun that is lighter and is easier to conceal.
No Signature
Glock provided me with a G42 to evaluate. As someone who has used Glock pistols for everyday carry, home defense, and competition since they first hit the U.S. market, the G42 held no surprises for me. And that is a major plus because the operating drill for all Glock pistols is the same, which makes for easier and safer transitioning from one Glock model to another.
But I must admit that the G42 was so small that it almost felt sort of "unGlocklike." So small in fact that it could be carried in the front pocket of my trousers ensconced in a Galco Pocket Horsehide holster without any signature whatsoever and still be drawn quickly.
32 Millimeters
Gathering up a supply of Black Hills, Remington, and Hornady ammo, I headed out to my gun club to run this new mini Glock through its paces.
While I feel that trying to shoot tight groups with this class of handgun can be frustrating and do damage to one's ego, I decided to throw caution to the wind. I placed a series of targets out at 10 meters and proceeded to shoot for score.
And I was pleasantly surprised when my first group had five Remington Golden Sabers in 32 millimeters, printing dead on to point of aim. Of the nine groups I fired none was larger than 64 millimeters, which I feel is impressive accuracy from a pistol of this class. Like many of the 9mm caliber pistols I've tested, it showed a preference for heavier projectiles, and the groups consistently shrank as the bullet weight increased.
After chronographing the three brands of ammo, the next chore was to see how the G42 handled some offhand combat drills at five meters. The trigger displayed a bit of "new gun" stiffness, which I'm sure will smooth out with use. I also found the sights a bit difficult to use. My personal preference is for a fiber optic front sight, which more and more manufacturers are now either fitting to their pistols or offering as an option, and I would like to see Glock follow this trend. Recoil was quite mild, but the short grip allowed the pistol to move around in my hand, forcing me to re-grasp it after every few shots.
All of the rounds I sent downrange ended up in the appropriate parts of the targets, with the majority of them chewing a ragged hole in the red 10 ring. I did not experience a single failure to feed, fire, or cycle out of the more than 250 rounds I fired from the G42 in two shooting sessions.
While I found the Glock 42 a very practical pistol for concealed carry, I would like to suggest one additional feature that would make it even better. An extended magazine base plate with a finger rest would allow a full, three-finger grip, which would provide a more secure purchase and improved recoil control without compromising concealability. Actually when you think about it an optional extended magazine would provide the same benefits along with one or two more rounds of ammunition.
Paul Scarlata has served as an auxiliary police officer and is a frequent contributor to POLICE Magazine.
Caliber: .380 ACP
Capacity: 6 rounds
Overall Length: 5.94 inches
Barrel Length: 3.25 inches
Height: 4.13 inches
Width: 0.94 inches
Weight (empty): 13.76 ounces
Construction: Slide, Steel; Frame, Polyme
Grips: Polymer
Sights: Front, White dot; Rear, White outline
Features: Safe Action System, reversible magazine release, loaded chamber indicator, RTF grip texture, extra magazine, padded carrying case, cleaning rod, brush, lock, and owner's manual
Price: $480