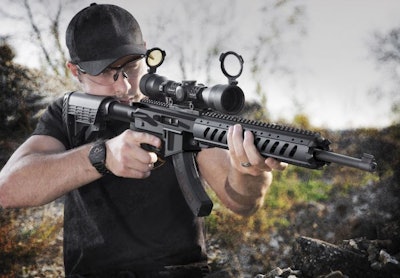 Advanced Technology International (ATI), manufacturer of gun stocks and firearm accessories, is now shipping the ATI Ruger AR-22 Stock System for the Ruger 10/22 platform.
Locally manufactured in Milwaukee, the patent-pending ATI AR-22 Stock System will transform the standard Ruger 10/22 into a near identical, fully-functional, AR-15 replica. The AR-22 Stock System will accept ATI's Strikeforce Stock and buffer tube assembly, Talon T2 Pistol Grip, as well as the company's 6- and 8-Sided Aluminum AR Forends with an FS8 Nosecone.
Director of Business Development Jon Shaffer said both rigidness and aesthetics were focuses in the AR-22's development, stating, "We went with an aluminum mounting chassis and two polymer halves to encase the firearm's receiver with no visible parting lines for the perfect union of strength, form, and function."
ATI's AR-22 Stock System also features a 21-inch aluminum Picatinny rail that runs the length of the receiver and forend for trouble-free optic and accessory mounting.
More aluminum components can be found in other areas of ATI's Stock System in the form of a mock charging handle and forward assist that help complete the AR-15 look.
ATI's AR-22 Stock System for the Ruger 10/22 is available now at www.atigunstocks.com.
About ATI Gunstocks
ATI is located in Milwaukee, Wis., and is the largest aftermarket gun stock manufacturer in the world. ATI's guiding principle is to develop and produce high-quality, yet affordably priced, gun stocks and accessories that are both safe and easy to install. ATI develops new products in-house at its ISO-certified Milwaukee facility, and warrants their safety and quality by testing them extensively at its Iowa facility.