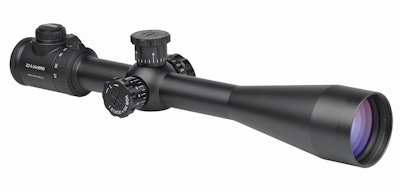 Meopta has introduced the new 30mm ZD 6-24x56 RD riflescope. Designed for sniper rifles, the Meopta ZD 6-24x56 RD is a precision long-range riflescope made to allow shooters to achieve deadly-accurate shot placement at extreme distances. This scope features a 30mm one-piece, aircraft-grade aluminum alloy tube. The new MilDot II RD illuminated reticle, located in the second focal plane with integrated range-finding markers, is calibrated for accurate target estimation in standard calibers - 7.62x52 NATO, .308, .338WM, and 12.7mm. The turret mounted parallax adjustment ranges from 27 yards to infinity, for precision aiming at any desired range.
Meopta's advanced RD illumination system control is located on the ocular of this scope. The push button control allows the user to choose between seven reticle intensity settings to adjust for varying light conditions from extremely low light to bright daytime sunlight. Intermediate off positions between every setting allow the user to quickly find their preferred illumination setting. If the illumination control is not used in three hours, illumination automatically turns off to prolong battery life.
The ZD 6-24x56 RD features Meopta's MeoTrak II posi-click windage and elevation turrets to deliver precise ¼ MOA click adjustments with repeatability, excellent tracking capability, and accuracy. Meopta's proprietary MeoBright lens multi-coatings eliminate glare and reflections and deliver 99.7% light transmission per lens surface while the MeoQuick fast-focus eyepiece rapidly brings targets into sharp focus. MeoShield ion-assisted coating protects external lens surfaces for enhanced resistance to scratching and abrasion in extreme conditions and meets military specifications for durability and surface hardness. This scope also features an anodized exterior for scratch resistance and is waterproof, shockproof, and fogproof for maximum performance and durability. The ZD 6-24x56 is covered by Meopta's North American lifetime transferable warranty.
The Meopta Group is a U.S. family-owned, multinational company with facilities in the United States and Europe. Founded in 1933 in Czechoslovakia (now the Czech Republic), Meopta is a leading manufacturing partner to many of the world's finest optical brands. In their Czech facility, Meopta conceives, develops, and manufactures precision optical and electro/optical systems for semiconductor, medical, aerospace, and military industries as well as for consumer markets. In their New York plant, precision optical products are manufactured and assembled to exacting standards in clean-room environments for the military, industrial, and consumer markets.
For more information regarding Meopta, visit www.meoptausa.com.