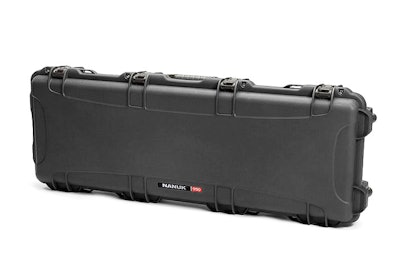 Considering the sizable investment we make in our duty weapons it only makes sense that we protect them with something better than a $20 nylon bag, but few of us do. I'm guilty as charged, having carried my beloved SBR in one of those cheap "tactical" nylon cases for years. Sure, it worked OK but then again I was pretty careful not to bang it around. There's a better way.
The Nanuk 990 series rifle case from PlastiCase is a waterproof hard case made of NK-7 resin. This tough-as-nails rifle vault uses four "Powerclaw" latches to keep it locked down and has two grommets for padlocks to keep everything secure. Inside, the 990 features a single layer of egg-crate-style foam lining the lid and a solid block of pick-foam in the bottom, allowing you to customize the 44 x 14 x 6 inches to fit almost anything perfectly.
When empty, the 990 weighs just under 18 pounds; certainly not a featherweight, but lighter than some of its competition. Considering the amount of protection it provides the weight is negligible. Additional features include heavy-duty reinforced hinges, two carry handles, and robust wheels for easy transport. If you're not into black, the 990 comes in OD green and Desert Tan as well.
I picked the foam to fit my Noveske MK18, a pistol, and a couple of spare magazines. This is a set-up I see myself most likely to travel with and one that left me a surprising amount of extra space for additional gear. With the lid closed everything was snug inside and nothing shifted out of place. The latches were easy to use and the hinges felt very solid. The overall fit and finish are excellent and on par with other cases in this category, some costing much more.
With a lifetime guarantee, PlastiCase's Nanuk 990 is cheap insurance for your tools of the trade. You can check them out along with all of Nanuk's hard-use cases at www.nanuk.com.
PlastiCase Nanuk 990 Rifle Case Specs:
Interior Dimensions: 44 x 14.5 x 6.0 inches
Exterior Dimensions: 47.1 x 17.3 x 6.6 inches
Weight (empty): 17.8 pounds
Lid Depth: 1.6 inches
Base Depth: 4.4 inches
Material: Lightweight NK-7 resin
Temperature Range: -20°F to 140°F
Watertight (IP67): yes
Warranty: Conditional lifetime guarantee
Price: $250–$300