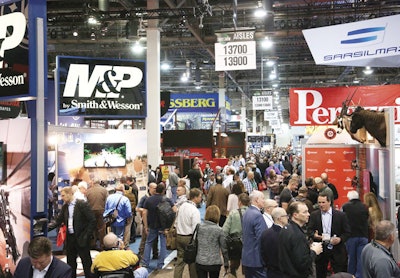 The 2016 version of the Shooting, Hunting, and Outdoor trade (SHOT) show was held last month in Las Vegas, and it revealed once again that law enforcement and personal defense products have taken primacy at the world's largest gun show more than ever before.
You really had to look hard to find hunting gear at this year's show. But there were plenty of new law enforcement products, many of which were not the traditional SHOT Show items of ammo, firearms, firearms accessories, and holsters. Here's a quick look at some of the products that caught our attention at this year's show.
Ammo—Several companies announced the availability of rifle ammunition for law enforcement applications in sizes beyond the usual LE standbys of 5.56mm and .308, including .300 Blackout and .300 Winchester Magnum. Company reps say law enforcement agencies are interested in these rounds for tactical operations because more individuals are barricading themselves behind heavier barriers. Companies also announced new formulations of typical LE ammo. For example, Hornady showed a new 75-grain 5.56 NATO TAP (Tactical Application Police) round specifically designed for use with short-barreled rifles. The new 5.56 TAP SBR minimizes muzzle flash and exceeds FBI accuracy standards. Liberty Ammunition debuted its Animal Instinct .308 round. With a velocity of 3,500 feet per second, the company says this 100-grain bullet is the fastest on the market. For shotgun users, Aguila Ammunition introduced its complete line of shotshells, including 12-, 16-, and 20-gauge and .410 caliber. The shells are available in shot, slug, and buckshot.
On the handgun side, one of the more interesting offerings was a new polymer coated target round from American Eagle (Vista Outdoor). American Eagle's Syntech target ammo line was developed to eliminate metal fouling in the barrel. Snake River Shooting Products showed its new Team Never Quit line of frangible ammo for training and duty use. The ammo line includes rifle and pistol calibers.
Apparel, Bags, and Boots—There was no shortage of companies showing law enforcement apparel and footwear at this year's show. 5.11 Tactical showed new shooting apparel for women, including a range shirt for female trainers. The Spitfire Shooting Shirt is constructed of a lightweight canvas and is finished with Teflon for stain resistance. Dickies brought a complete line of tactical wear to this year's SHOT, including tactical pants and polos for both men and women. Tru-Spec introduced a new line of professional wear branded as Urban Force TRU that includes a uniform shirt and pant and a ¼ zip combat shirt. Vertx showed a concealed carry pant that does not scream "tactical." The new Delta Stretch Pants have a casual four-pocket style with concealed carry details such as leather-trimmed tool pockets and knife notch pockets.
Bags are always a big presence at SHOT. 5.11 brought its new Havoc 30-inch backpack, which features quick access waist belt magazine pockets and plenty of other storage for mags and other gear. Vertx showed a new piece of luggage for operators who have to travel with suits. The Professional Rifle Garment Bag is essentially an overnight suiter that gives the user rapid access to a stock-collapsed full-size M4.
Each year the latest LE boots debut at SHOT. Ridge brought its new Nighthawk line of "aggressively priced, entry-level" LE boots to SHOT. The Nighthawks are available in Oxford, 6-inch, and 8-inch versions. Thorogood showed new side-zip boots for both men and women that feature the company's ThoroDri waterproof membrane.
Armor—New and innovative body armor was announced at this year's SHOT from a variety of different companies.
Angel Armor unveiled its new concealable armor system called Rise in NIJ Level II and Level IIIA. The lightweight armor is designed to fit the company's new Truth Snap lightweight magnetic trauma plate system, which is designed to offer all-day protection from rifle rounds.
Armor Express showed its new Gen2 Razor concealable armor in NIJ Level II and Level IIIA. The Level II vest is extremely lightweight at .67 pounds per square foot (PSF). The Level IIIA vest is .93 PSF.
Point Blank showed its latest version of its Alpha Elite line of lightweight, high-performance vests. The company says Alpha Elite Black is so innovative that it passes FBI Special Threat testing and is even lighter than Alpha Elite at .79 PSF in an NIJ Level II.
Survival Armor showed its new lightweight armor that it calls the Paladin. It's available in NIJ Level II and Level IIIA with special threat rating.
Firearms—Concealable handguns have become a huge draw at SHOT Show as the public has embraced concealed carry. This show's concealed carry handgun debuts included a uniquely designed .380 from Taurus called the Curve, which is available with lights and lasers, and Kimber's first revolver.
From a law enforcement perspective, the most important handgun announcements at SHOT came from Glock. The Austrian handgun maker released two new optics-ready pistols in its Modular Optic System (MOS) series, the G17 Gen4 in MOS and the G19 Gen4 in MOS.
Ruger showed its new American Pistol. The full-size duty weapon meets the latest military standards and is available in 9mm and .45 ACP.
Rifles were in abundance at this year's SHOT, with some of the more popular models being offered in uncommon calibers. Savage (Vista Outdoor) showed two versions of its BA Stealth precision rifle in .308 Winchester, 6.5mm Creedmoor, .300 Winchester Magnum, and .338 Lapua. Kel-Tec offered a new modification of its bullpup RFB, the RDB. The RDB features a rotary bolt with a spring-loaded ejector and an extractor facing down so that spent casings are ejected down. Advantages of this design are gravity-assisted ejection, higher bolt energy at feeding, and a slower rate of fire in select fire versions. FN showed a new line of famous military weapons, including a semi-auto M249 SAW and AR-15 variants. IWI US introduced its newest rifle, the Tavor X95 semi-auto bullpup. The X95 semi-auto is available in 5.56 NATO and .300 Blackout.
Holsters—With more and more firearms manufacturers offering optics-ready pistols, holster companies are starting to offer products that can accommodate a pistol with an optic. For example, DeSantis showed a new Quick-Chek Scabbard model holster that can accommodate pistols fitted with reflex sights or standard sights. The new holster features DeSantis' Redi-Lok retention system.
Optics and Sights—Aimpoint debuted a new line of magnifier modules at this year's SHOT. Available in 3X and 6X, the magnifier modules increase the capability of Aimpoint's reflex sights for long-range shots and observation.
March Optics showed its complete line of precision rifle scopes, including a new 1-4.5x24mm service rifle scope. The new scope features ¼ MOA click adjustment and an illuminated dot reticle.
Meprolight brought its new reflex sight and three new pistol fiber-optic/tritium sights. The Mepro Tru-Dot RDS Pro is an electro-optical red dot sight that's compatible with night vision. The new pistol fiber-optic/tritium sights are offered in one-dot, two-dot, and circle dot configurations. The circle dot is a rear sight only for quick acquisition.
Trijicon introduced its new Miniature Rifle Optic (MRO) reflex sight. The MRO has a large objective lens for a greater field of view.
Truglo showed its new Brite-Site TFX Pro tritium plus fiber-optic handgun sights. The sights feature a contrasting colored front sight ring and a U-notch design for quick and accurate targeting.
Attendance Strong at SHOT Show Law Enforcement Training
A three-day session of law enforcement-specific courses—the Law enforcement Education Program (LEEP)—co-sponsored by the National Shooting Sports Foundation and POLICE Magazine was a huge success at last month's SHOT Show with high attendance and strong evaluations for all programs.
The LEEP courses included a series of seminars from the National Tactical Officers Association and a collection of classes sponsored by some of the leading vendors of law enforcement weapons, equipment, and services.
NTOA's LEEP track focused on protection measures and tactical execution. Seminars covered active shooter response, the 2015 NTOA tactical response and operations standard, law enforcement response to suicidal persons, and tactical tips and truths.
The law enforcement weapons and equipment track included a tactical optics class by Trijicon, patrol rifle classes by Daniel Defense and DoubleStar, a seminar on silencer use and its benefits for law enforcement by SilencerCo, a session on use of the modern ballistic shield by Condor, a course on shooting range acoustics by Troy Acoustics, a class on K-9 operations by K2 Solutions, and a seminar on sniper engagement by Magpul.
LEEP participants received a certificate of attendance that can be used to document the training.