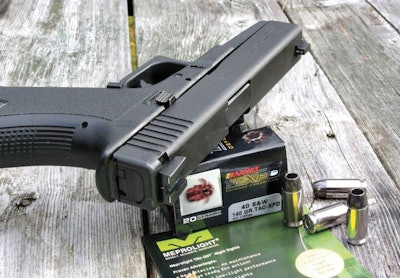 Trusty iron sights are the standard for any duty pistol and the choices are almost endless. Any good "duty grade" iron sights should have a few key features. First, they need to be precise and well made. Our sights take a beating and the last thing we need is for them to be out of alignment when it matters most. Next, clear markings that allow for quick and accurate target acquisition is critical. We rarely have the luxury of a drawn out aiming process. And lastly, some kind of night illumination is a must. Let's face it, a lot of us don't put on a uniform in the daytime.
Meprolight has been in the Tritium iron sights game for a while and produces a variety of great duty sights. The company's new R4E Optimized Duty Sights are made to fit the full-sized family of Glock pistols. Designed by two U.S. Special Forces veterans, the R4Es feature a unique aiming pattern that incorporates five different elements, all of which are illuminated by a good dose of Tritium for low-light shooting. The rear sight has three lines; two on a horizontal plane and the third vertically in the center. These align with a front sight featuring another vertical line below a solid dot. When properly paired up they form a sort of "cross-hair" pattern that allows for very precise aiming. All of the markings are large and brightly colored in your choice of green, orange, or a combination of both and catch the eye quickly.
I put mine on my Glock 23 pistol to see how they'd compare to the standard 3-dot iron sights I've been running for well over a decade. I started off with several dry-fire draws from the holster to see just how attractive these sights were to my eyes. I have to admit my initial impression was that these sights were "too busy" but I was pleasantly surprised at the difference between these and others I've used in the past.
These were actually quite intuitive and I was able to align them quickly and reflexively after only a few draws. Next, I spent a few magazines taking precise shots from the 25-yard line. This is where the R4Es showed their true potential, as the cross-hair pattern really did make for highly accurate aiming and the results were impressive. I finished up with a series of quick-draw and fire drills in low-light and once again I was pleased with the result. The fit and finish of these sights is top notch and I wouldn't hesitate to put them on my duty gun.
In the near future, Meprolight will be adding R4E sights for Springfield, SIG, and S&W models to its line. In the meantime, you can purchase R4E Optimized Sights for full-size Glocks directly from exclusive U.S. distributor The Mako Group at www.themakogroup.com.
Meprolight R4E Optimized Duty Sights Specs:
Currently available for all Glock models
Assists in rapid target acquisition
Two horizontal and one vertical line create reticle effect
Tritium-powered and guaranteed to maintain brightness for 15 years
No batteries required
Both front and rear sights are reverse angled to "bite" into belts or any edge for racking the slide
No gunsmith required for installation
Price: $158.85