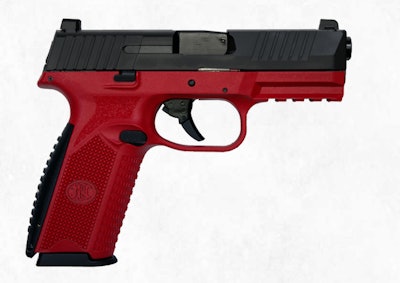 FN America LLC has announced the release of an FN 509 Training Pistol, an inert pistol made to provide law enforcement agencies and instructors a completely safe way to demonstrate the pistol's functionality in a classroom or range setting. In addition, the pistol provides a way to acclimate new shooters to safe firearm handling, presentation and holstering before they move to a live firearm.
"The FN 509 Training Pistol is an integral addition to our line-up that has been specifically produced for law enforcement agencies," said Charles "Bucky" Mills, senior director of law enforcement sales for FN America LLC. "This positions FN to be responsive to all solicitations and further support agencies invested in the FN 509 platform."
The FN 509 Training Pistol is a completely inert, red-framed polymer pistol with a redesigned fire control assembly that resets the trigger each time it is pulled without having to continually rack the slide. The FN 509 Training model shares the same ergonomic features as the functional FN 509, including grip angle and textures; slide weight and profile; four-inch barrel; and operating controls. The pistol also ships with fixed day sights and three 17-round magazines in a red soft case. Agencies or ranges interested in the FN 509 Training Pistol should email inquiries to LE@fnamerica.com.
For more information about the FN 509 or other FN products, visit www.fnamerica.com.