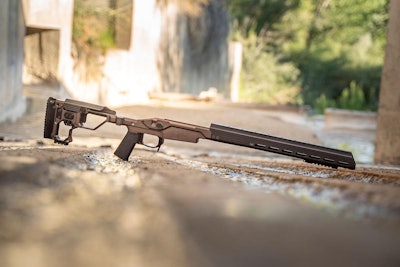 Christensen Arms has announced the Modern Precision Rifle Chassis. It is the company's first bolt-action rifle chassis.
The Christensen Arms Modern Precision Rifle Chassis is the same ultra-lightweight adjustable system found on the company's Modern Precision Rifle offered as an individual component. Built in the USA with aerospace grade aluminum and carbon fiber elements, the chassis delivers effortless form and function while weighing less than three-and-a-half pounds.

"Ever since we launched the Modern Precision Rifle, an independent chassis has been one of the most common requests we receive," said Jason Christensen, president of Christensen Arms. "We're pleased to expand the platform."

The system is shipped assembled and includes a custom free-floating carbon fiber handguard with M-Lok. The platform also features an adjustable carbon fiber comb and length of pull. The folding buttstock reduces the length of the chassis by 9 inches, allowing for more convenient storage and transportation. The MAGNELOCK technology is designed for ease of use, with a smooth release button and a powerful magnet instead of a cumbersome clasp. The chassis also features a standard AR-style grip.

The Modern Precision Rifle Chassis is offered in both Black and Desert Brown anodized finishes for a retail price of $1,095. Options include a short-action model with a 14- or 17-inch handguard and a long-action model with a 17-inch handguard. The new product is currently available for purchase on the Christensen Arms webstore.

Visit the Christensen Arms website or watch the release video for more information.

About Christensen Arms:
With almost 25 years of firearm experience focused on incorporating top-tier aerospace materials and processes into production—Christensen Arms manufactures some of the most lightweight, precise, and accurate firearms in the industry and around the globe. From the very first prototype to current models, the firearms have always been the product of American engineering and the best of American manufacturing.