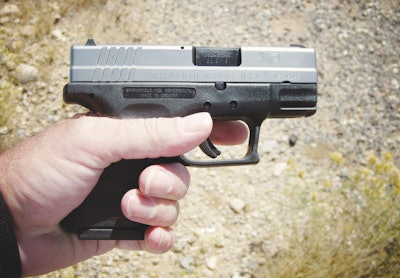 Over the years I have field tested numerous subcompact pistols designed for use as concealed carry, backup, and off-duty weapons. For a variety of reasons that I am about to discuss, the Springfield Armory XD Sub-Compact 3" is one of my favorite personal defense handguns.
To date I have field tested three different Springfield Armory XD Sub-Compacts, including two in .40 S&W and one in 9mm. I think this is an important point to mention because anytime you test several models of the same firearm you gain a really strong idea of how the gun performs.
I would also like to say that I feel very qualified to evaluate Springfield XD pistols. I have lost count of the number of rounds of ammunition that I have fired through various XD and XD(M) pistols in all calibers.
Feature Rich
XD Sub-Compact pistols, like all XD handguns, feature a striker firing system. They have hammer-forged, 3-inch barrels with Melonite coatings and fully supported feed ramps. Despite their small size, the XD Sub-Compacts also feature an accessory rail designed to fit compact gun lights like the L-3 XML. Springfield says the XD Sub-Compact is the shortest carry pistol on the market with an accessory rail. Other features found on all XD Sub-Compacts, regardless of caliber, include a dual recoil spring with a full-length guide rod, dovetail front and rear standard steel sights or night sights, a grip safety, a loaded chamber indicator, and a striker status indicator.
The XD Sub-Compact is built tough. All critical internal parts are forged from billet steel. The slides are available in two versions: stainless steel or a corrosive-resistant forged steel slide with a Melonite coating. The frames are black polymer.
Magazine size and capacity of course varies with caliber. The 9mm XD Sub-Compact can accept 10- and 13-round standard mags; it will also work with a special 16-round stainless steel mag that features a protective plastic collar and is easily disassembled. The XD Sub-Compact .40 comes with a standard 9-round magazine and a 12-round extended magazine with similar features and design as the 9mm extended mag. Springfield Armory designs its high-capacity extended magazines for its Sub-Compact pistols with a plastic collar around the magazine base to provide the operator with a more ergonomic gripping surface.
Both the 9mm XD Sub-Compact and the .40 XD Sub-Compact weigh 26 ounces when equipped with standard capacity magazines, and 27 ounces with the extended magazines. The overall length of each XD Sub-Compact is 6.25 inches. Height is 4.74 inches with a standard capacity magazine and 5.5 inches high with an extended magazine.
Sighting In
The first XD Sub-Compact that I ever shot was a used .40 S&W model with big dot-style sights. For this evaluation, I also acquired two new XD Sub-Compact pistols from Springfield: a 9mm and a new .40 caliber, both with standard factory three-dot fixed sights.
Normally, I am not a fan of big dot sights. However, I was able to shoot the used XD Sub-Compact .40 better than any of the other pistols that I have ever tested that have been fitted with big dots.
While shooting the XD Sub-Compact with the big dot sights, I was able to put 15 rounds into a group on a nine-inch paper plate. That's not bad, considering my rate of fire and my preference for another style of sights.
With that other style of sights, three-dots, the XD Sub-Compact proved much more accurate in my hands. Quick shots with the brand new XD Sub-Compact .40 with three-dot sights produced 1.5- to 5.5-inch groups at 15 feet and 21 feet.
During one range session, a friend of mine who works in a local police supply store helped me fire 120 rounds of Speer Lawman 9mm 124-grain FMJ ammunition through a 9mm XD Sub-Compact. In several strings of fire, we averaged 3- to 5-inch groups at distances from 20 to 40 feet, engaging targets at a fairly quick pace.
I see this drill as a true test of a personal defense handgun, and when I test firearms that can be carried by law enforcement officers, I prefer to shoot them like they will be fired in different types of CQB situations. So I do not test fire combat handguns like they were target pistols by shooting slowly at traditional bulls-eye targets. Instead, I engage man-size police qualification targets or steel plates shooting double-taps, rapid fire drills, and head shots to simulate engaging an active shooter who is wearing body armor. I also shoot strings of fire from different distances and different angles while executing combat reloading drills.
The XD Sub-Compact pistols scored well in my CQB drills. I had no problem using the 9mm XD Sub-Compact to consistently engage a steel plate the same size as the scoring area of a TQ19 Police Qualification Target at various distances, including at longer ranges. The short stroke of the super smooth striker-fired XD trigger helped me produce a lot of pings and dings on the metal.
The day before I finished this article I fired another 40 rounds of 124-grain 9mm Winchester FMJ ammunition as well as some of the new 135-grain standard velocity Hornady Critical Duty ammunition at an IPSC Target from distances of 15 and 20 feet. I emptied two 10-round magazines and one high-capacity extended magazine into the torso area of the target. I then test fired the 9mm 135-grain Hornady Critical Duty ammunition. I found it to be noticeably soft shooting and very accurate.
Tough and Ready
One of the things I like most about XD and XD(M) pistols is that they are extremely reliable, and they can take a lot of punishment. The XD Sub-Compact, in all its various iterations, continues that family tradition. It's a tough gun and when you pull the trigger it fires.
As I've explained, the XD Sub-compacts that I tested for this article was used. What I haven't told you is that it wasn't gently used. The gun had not been well maintained by its owner. Even so, that well-worn pistol functioned flawlessly once I added some lubrication to the appropriate internal parts.
Concealed Carry
One of the best things about the XD Sub-Compact as a concealed carry pistol is that you have a number of options for securing it on your body.
When I first began to field test XD Sub-Compacts, I carried them in either a DeSantis nylon ankle holster or in an Uncle Mike's inside the waistband rig. Spare mags were carried in a leather DeSantis AO1 Double Magazine Pouch or in a DeSantis leather A47 Single Magazine Pouch. In warm weather, I generally carry a DeSantis Double Magazine Pouch inverted on my belt under a pullover shirt to prevent this pouch from producing more of an unwanted bulge against my clothing. This makes it easier for me to conceal two spare magazines under a shirt on the weak hand side of my belt.
Another excellent option for carrying XD Sub-Compact magazines is the DeSantis Style N81 Double Magazine Ankle Holster. The DeSantis Double Magazine Ankle Holster can also be used when you need to carry a larger combat load of spare magazines.
Prior to testing the XD Sub-Compact, the XD(M) Compact was one of my favorite concealed carry pistols. Now I definitely have a preference for the 3-inch Sub-Compact. It is a tad easier to carry concealed than the slightly larger Compact, especially in an ankle holster. I like the 9mm XD Sub-Compact so much that I bought the one I tested.
Nick Jacobellis is a medically retired U.S. Customs Agent and a former police officer who was physically disabled in the line of duty while working as a federal agent.
Springfield Armory XD Sub-Compact 3" Specs
Capacity: 9 rounds, 12 with extended mag
Overall Length: 6.25 inches
Barrel Length: 3 inches
Height: 4.75 inches with compact mag
Weight (empty): 26 ounces with compact mag
Barrel: Steel, Melonite, with fully supported ramp
Frame: Black polymer
Slide: Forged steel with Melonite finish
Sights: Dovetail front and rear, three-dot
Recoil System: Dual spring with full length guide rod
Price: $439, $516 with night sights
Related:
PHOTOS: Springfield's XD(m)-9 5.25