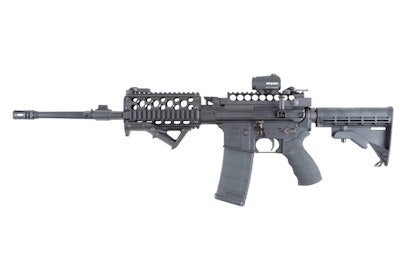 Ares Defense Systems has introduced the Ares-15 Mission Configurable Rifle (MCR) that features gas-piston operation, optional belt-feed capability, and a quick-change barrel.
The standard magazine-fed Ares-15 MCR is upgradeable to a dual-feed design with the purchase and installation of the optional Belt Feed Conversion Kit, and is also available as a belt-feed only version.
The Ares-15 MCR's quick-change barrel, which allows users to configure the rifle without tools, is available in 12-, 16-, and 20-inch lengths. The unique design of the Ares-15 MCR also allows users to upgrade their existing weapons by simply substituting an Ares-supplied MCR upper receiver to replace the user's legacy upper.
The semi-automatic Ares-15 MCR accepts standard 30-round M16 magazines and M27-linked SAW ammunition in 5.56x45mm NATO (.223 Rem). Ares also offers caliber conversion kits for the Ares-15 MCR providing for .22LR, 9mm, 5.45x39mm, 7.62x39mm, 6.8 SPC and 6.5 Grendel. Featuring a six-position telescoping stock, the Ares-15 MCR also includes a MIL-STD-1913 co-planar hand guard with a rail-interface system to mount optics and accessories.