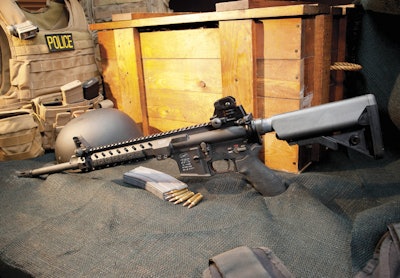 Editor's note: View our photo gallery, "Patrol Rifle Accessories," for a more detailed look at the AR components mentioned in this article.
There's a variety of reasons that the AR-15 rifle and its variants are still used by many of the world's military units and law enforcement agencies more than 50 years after it was invented.
It's simple. It's reliable. And it's easily adaptable.
ARs are almost endlessly customizable to suit the needs of the operator. From barrel length to stocks, grips, rails, and optics, the foundation of the AR-15 can be adapted to everything from close-quarters operation work to long-range precision applications.
The following is a look at my personal gear with commentary on my experience with various gadgets and gizmos and what I think will help you get the most out of your trusty AR. These are things that I know will greatly improve the functionality of an AR used for law enforcement purposes. Having carried this weapon system for the better part of a decade and managed a rifle program of more than 140 officers, I have just about seen it all. I know what works and what doesn't.
No addition to any weapon system is going to make a poor shooter great, but there are plenty that will give the average guy an advantage. I'm also going to focus on the AR variant that is the most common in our line of work, the "patrol carbine" or "patrol rifle." We'll save the precision models for another day. I've also covered optics in a previous issue, so I won't rehash that here. Finally, you'll notice my preference for accessories that allow for "ambidextrous" operation of the rifle. Not all of us are right handed and having the ability to operate the weapon from either side is always a plus.
Adjustable or Fixed?
Let's talk about stocks. Out of the box the AR-15 generally comes with one of two options: the fixed rifle stock or the adjustable carbine stock.
Fixed stocks are becoming less common these days as the applications for them are limited and they do not fit all shooters. The carbine length adjustable stock is now pretty much the standard, with four or six adjustable positions to accommodate different shooters and gear configurations.
Although some rifle manufacturers are adding aftermarket stocks straight from the factory, most still ship with the standard second generation or "A2" carbine stock. The A2 isn't a bad stock; its reinforced polymer construction is simple, light, and robust. The drawbacks are its lack of a gripping shoulder pad, poor comb or cheek weld, and loose fit to the receiver extension tube. This can make shouldering the weapon and acquiring a solid cheek weld difficult. There are several companies that have addressed these issues and a couple that, in my opinion, have perfected it.
I currently equip all of my AR-15s with either a Magpul CTR (Compact Type Restricted) or a VLTOR IMOD (Improved Carbine Modstock). The Magpul CTR is my favorite because I believe it addresses all of the A2's deficiencies while retaining all of the features that make a carbine stock great. It is lightweight, solid as a rock, and has a great comb. The CTR stocks fit tight to the receiver extension and lock securely into place with a simple lever. They even incorporate a good rubber pad on the rear shoulder area to virtually eliminate any chance of the rifle slipping off the operator's shoulder. As if this weren't enough reason to pick up a CTR, it's also priced very competitively.
A Single Point
Moving forward we come to the receiver end plate, a perfect place to attach a single-point sling. Now I realize slings are a hot-button topic and everyone has their preference. One-, two- and three-point slings all have their place depending on the desired application of the rifle. I have extensive experience with all three of these and currently use single-point slings exclusively.
For close-quarters tactical applications, single-point slings are tough to beat. They're light, simple, and allow for great freedom of movement while securing the weapon tightly to the operator. They also allow for smooth weapon transitions, strong or support side shooting and, as they attach to the weapon using one point, they do not interfere with manipulations.
My favorite single-point slings are The Wilderness Single Point and Specter Gear MOUT (Military Operations on Urbanized Terrain). Both are made with durable nylon and quality buckles and both are very simple. I've yet to see either fail.
Receiver end plates are the most common place to attach a single-point sling. All AR-15 carbines have a receiver end plate; the sling attachment version essentially takes that simple, stamped piece of metal and adds a loop or slot to attach the sling. I prefer those with two-sided attachment ability to accommodate right- or left-handed shooters and allow bilateral shooting for either.
GG&G makes several variations of receiver end plates that have sling attachments and they're all I use. Their design is simple and well thought out. They do not interfere with the shooter's grip or manipulation of the safety selector and are very reasonably priced. They even offer military and law enforcement discounts. Magpul, Troy Industries, and Noveske also make ambidextrous versions that are a bit more complex than the GG&G models but work equally well.
Holding On
Now let's talk about grips. The standard "A2" pistol grip is functional but has never fit my hand. I'm sure I'm not the only one who has had this problem, as evidenced by the myriad of available aftermarket options. We all have different hands and the idea that "one grip fits all" is as far-fetched as a boot manufacturer making only one size of boots.
I'm currently a big fan of Magpul's MOE and MOE+ grips. They're wider than the A2 and do not incorporate that annoying little A2 finger index bump that always seems to be in just the wrong location. They have an additional backstrap for a more positive grip and the MOE+ model adds a tacky rubber outer skin for an even better weapon-to-hand weld. The MOE grips also have a tab on the front that fills the gap behind the trigger guard; you know, the one that created the painful callous on the top of your middle finger.
The latest grip that has earned my respect is Bravo Company's BCM Gunfighter. A little slimmer toward the top but equally robust near the bottom, the Gunfighter incorporates all of the great features of the MOE but has a more upright angle. This allows for a more natural wrist angle and decreases shooter fatigue. The Gunfighter and MOE are both available in a variety of configurations to fit the operator's preference and are available in all of the standard military colors.
The Buttons
I have abandoned both standard safety selector and magazine release versions for ambidextrous ones on my ARs. I'm a "lefty" and AR-15s are designed for primarily right-handed shooters. I learned how to run an AR-15 with standard controls, and I can still run it well in this configuration. However, I see a real need for ambi controls, not only for us lefties, but also for bilateral shooting and injured officer scenarios. The ability to run the gun from either side is never a bad thing.
I began testing some ambidextrous safety selectors and magazine releases a few years ago, and there are a couple that impressed me. The Troy Industries Ambidextrous Magazine Release and the Battle Arms Development (B.A.D.) Ambidextrous Safety Selector are my two favorites.
The Troy ambi mag release is simple in its design and made of high-quality steel. It installs in seconds with no tools required and has not failed me once in three years. The standard mag-release button is retained on the right side of the rifle with the addition of a similarly sized lever on the left.
B.A.D.'s Ambi-Safety Selector has been on my duty rifle for a shorter period of time than the Troy model, but I am equally impressed with it. The selector is three pieces of machined steel: the centerpiece that interacts with the fire control system and two levers that attach to either end with screws. There is an index tab on each lever that fits into a notch on the centerpiece and both are secured with a steel screw with thread-locker. The operator is able to configure the five different available levers to his or her preference, creating an almost custom configuration, and all levers have a nicely textured finish for positive grip.
On the Rails
That takes us to the front end of the rifle, the real estate where operators mount everything from vertical grips to lights and laser designators. The need for a robust mounting platform for these accessories was realized long ago, pushing aside the plastic handguards for configurable steel rail systems. There are two basic variations of these. The "quad rail" style with long sections of 1913 Picatinny rail on the four sides. These are great but frequently leave behind a lot of "rail real estate" not being used. The excess rail adds weight and chews up the operator's hands, creating the need for rail covers. Fast forward a few years and this concept has evolved into a user-configurable rail system; essentially a steel tube with various rail sections that can be attached to fit the operator's needs. This system uses only as much "rail estate" as the operator requires and leaves the rest of the forend light and smooth.
My favorite rail systems are the Troy Industries BattleRail Alpha and Noveske NSR. Noveske's NSR and BattleRail Alpha's 6061 both feature anodized aluminum construction that is light, strong, and simple and requires no permanent modifications to your rifle. Both incorporate a solid Picatinny rail along the top that indexes off of the upper receiver to create one continuous rail along the length of the rifle. This is important for maintaining a precision sight plane and allows ample room for mounting optics, magnifiers, lasers, and flip-up iron sights. The rest of the rail is infinitely configurable and limited only by the operator's imagination.
When you have a rail system, it only makes sense to use it. I'm of the school of thought that simpler is better, and I currently have only two key pieces of gear forward of the receiver: a good weapon-grade light and a sturdy vertical grip.
I've used Tango Down's short vertical BattleGrip since it was introduced a few years ago. It's solid as a rock and incorporates a quick-release lever for easy cleaning. I use this little grip not only as a home for my support hand, but also as a shooting aid against barricades or other platforms. I've beaten up and torqued down on the polymer grip pretty hard and it shows no signs of wear. There's even a small internal compartment for storing an extra battery or whatever other small piece of gear you feel the need to bring along.
For my weapon light I use a SureFire M600 Scout light. The Scout was a great advancement in weapon lights and one of the first to move away from large, heavy incandescent weapon light systems or handheld flashlights attached with scope rings. It is the size of a small handheld light but incorporates recoil-stable circuitry and a shockproof LED lamp assembly. The body is machined aluminum with an integrated mounting system and a choice of either a pressure switch or a simple rubber tail-cap.
I know I've barely shaved the top off the iceberg here, but there is no real way for me to cover everything. However, I can assure you that everything I have covered is good to go. I've used and abused all of it and wouldn't hesitate to recommend it to anyone going into harm's way.
For More Information:
A.J. George is an officer with the Scottsdale (Ariz.) Police Department currently assigned to the advanced training unit as a firearms and tactics instructor.