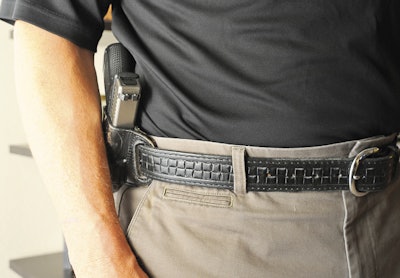 This isn't your daddy's department-store belt, but it sure does what it's supposed to do. The Blade-Tech Reinforced Looper Series gun belt is clearly aimed at fitting the needs of the plainclothes police officer. It is made in the U.S.A. of Kydex-reinforced patterned leather with a solid brass buckle. Yes, it has the same Kydex used in holsters and it serves the same purpose; it makes the belt rigid.
This belt is sturdy and will hold your holster just like your trusty Sam Browne belt. It's made to keep your gun and holster in place when drawing or in a scuffle. It does, however, sacrifice the comforts you'd find in an off-the-shelf department store belt.
When I got this belt to try out, the company's rep warned me not to make any hasty judgments as to how comfortable it is. On my first wear, I knew exactly what he was talking about. It was stiff. At 1.5 inches wide and thicker than your average belt, you know it's there when you put it on. I used a low-profile leather Galco holster to keep my Glock 27 attached to my belt. The rig stayed put throughout the day and the gun tightly hugged my waist. As the day wore on, I found the belt less noticeable.
After a few months of on-duty wear, the belt had broken in like a good pair of shoes. There were nice bends in the belt exactly where the holster would sit, making the placement exactly the same each time. In fact, when I used a lesser-reinforced belt, I felt like the gun/holster was flapping about when I walked. Not a good, safe feeling while on duty.
The Reinforced Looper belt isn't fashionable enough to complement a suit, but it will go well with a pair of khakis and a dress shirt. It is not meant to be a dress belt. It's best to think of this as a trimmed down version of your duty belt. It looks and feels like a duty belt and it serves the same purpose. Anyone who has worn a loaded pistol on a flimsy department-store belt will tell you that it isn't secure enough to withstand a scuffle or a perp's serious attempt at your gun. You need to have something that will secure the holster in place and not twist like taffy when it's pulled. This belt takes care of that.
We all had to get used to our duty belts when we first started out in the uniform. This belt is no different. You need to break it in and get used to the firm ride. Once you do that, it will do its job without sacrificing comfort or style.
Blade-Tech Reinforced Looper Series Gun Belt Specs:
Material: Kydex-reinforced premium cow hide leather dyed to prevent surface discoloration from holster friction
Buckle: Round or square in solid brass
Width: 1.25 inches, 1.5 inches, and 1.75 inches
Size: 32-48 inches, even sizes
Colors: Black with silver-plated brass buckle; brown with brass buckle
Price: $54.99
Mark Clark is a 27-year veteran police sergeant. He has served as public information officer, training officer, and as supervisor for various detective and patrol squads.