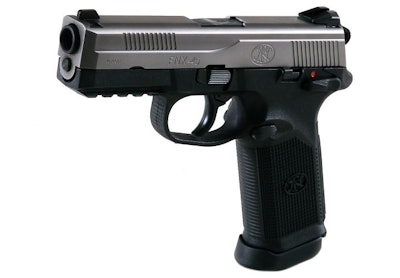 Editor's note: View our "FNH USA's FNX-45 Duty Pistol" photo gallery for detailed photos of the pistol.
In partnership with the famed arms designer, John Moses Browning, Belgium's Fabrique Nationale d'Armes of Herstal has been producing semi-auto pistols since the turn of the last century. The company's first pistol, the 7.65mm Pistolet Automatique Browning Mle. 1900 was so popular that in many parts of the world "Browning" became synonymous with "semi-auto pistol." FN's Browning-designed pistol line culminated in the legendary Pistolet Browning Grande Puissance ("Browning High Power Pistol") of 1935, which was so popular that it remains in production today.
FN's U.S. division, FNH USA, was established in 1977 when the company built a factory in Columbia, S.C. Originally established to provide the U.S. armed forces with M240 and M249 machine guns, FNH USA soon started producing smaller arms, including the FNP series of law enforcement duty pistols.
The FNP series of pistols was FN's first entry into the market for modern polymer-framed duty weapons. FNP pistols are hammer fired, have fully ambidextrous controls, and feature replaceable frame rails. They are available in 9mm, .40 S&W, .357 SIG, and .45 ACP. In 2007 the U.S. Joint Combat Pistol Program was announced to find a .45 caliber pistol for American Special Forces. FNH entered the FNP-45. The program was canceled before a winner was chosen but word is that the FNP performed very well.
A few years ago, FN introduced the successor to the FNP line, the FNX. Like the FNP, the FNX is a hammer-fired, polymer-framed duty pistol with a double-action/single-action trigger system. The latest model in the series is the worthy successor to the FNP-45, the FNX-45.
Familiar Feel
Where the FNX-45 differs from the earlier FNP-45 is in its internal dimensions and in the fact that the magazines have been redesigned for optimal performance with a variety of commercially available ammunition regardless of bullet shape, profile, weight, or ballistics. The redesign of the magazines means that FNP mags will not operate in FNX guns. The FNX-45 is offered in two primary versions, a duty model and a Tactical with a threaded barrel. You can get an FNX-45 in basic black polymer with stainless steel slide or in a two-tone version with an earth-colored polymer frame and a matte black stainless slide. For this test and evaluation FN sent me a black duty model.
There were a few things I liked about the FNX-45 before I even took it out of the box. Heck, I even liked the box, a sturdy plastic hard case. Inside that box were the pistol, three mags, and four interchangeable backstraps. Getting three mags with the pistol is great, since as mentioned, you can't just use FNP mags in the FNX.
The FNX-45 feels very familiar. It has ergonomics and design very similar to those of the FNP line. In other words, after selecting the appropriate interchangeable backstrap for my hand and securing it to the one-piece polymer frame, the FNX felt like an old friend.
Like the FNP, the FNX has replaceable slide rails. This is an interesting feature for a polymer-framed duty pistol that will see a lot of work. Anyone who has put a lot of rounds through polymer-framed pistols will tell you that the slide rails can wear out. On many pistols, that means it's time to buy a new gun. With the FNP and FNX model pistols, it's time for new rails.
In addition to the interchangeable backstraps, I found a lot to like about the FNX's frame design. The grip and the trigger guard both have aggressive checkering to improve recoil control and help keep the pistol secure in your hand, even when you are sweating or wearing tactical gloves. And like most duty pistols now in use, the FNX has an integrated MIL-STD 1913 rail so that you can mount tactical lights, lasers, and other accessories. Thanks to a wide-mouthed magazine well reloads can be accomplished smoothly and positively. Front and rear grasping grooves allow you to retract the slide from various positions, which can be very useful when clearing a malfunction.
Operation and Loading
With a 15-round magazine, the FNX-45 holds more chunky ACP cartridges than any of its polymer compatriots. That sounds like a great idea in theory, but I found the magazines a bit difficult to load to capacity and would like to suggest that FN include a magazine-loading tool with the pistol.
Those officers who are southpaws, or who may have to operate the pistol with their "off" hands, will appreciate that the safety/decocker and magazine release are fully ambidextrous. The manual safety levers on the FNX let you carry the pistol in "cocked and locked" (Condition 1) mode. When the safety lever is pushed down past the "fire" position, it acts as a decocker, letting you safely lower the hammer on a loaded chamber.
The stainless steel slide's large ejection port and heavy-duty extractor ensure that spent cases are removed quickly and reliably. The ejector also functions as a loaded chamber indicator, which gives you a visual and tactical indication of the pistol's condition. As is common on most service pistols today, the FNX-45 uses the three-dot sighting system. Night sights are available as an option.
A four-inch, hammer-forged stainless steel barrel with polished feed ramp and chamber ensures the reliability and accuracy of the FNX-45. A captive recoil spring on a full-length guide rod ensures functioning and consistent lock and has the added advantage of simplifying disassembly.
Breech locking is accomplished by the barrel hood moving up into and bearing on the front edge of the ejection port. When fired, the slide/barrel unit reciprocates to the rear locked together. After a short distance the barrel is cammed down, which allows the slide to continue rearward, extracting and ejecting the spent cartridge case. The recoil spring then pulls the slide forward, stripping the next round from the magazine and chambering it. As the slide goes into battery, the barrel is cammed up, locking it and the slide together again.
Range Drills
My first shots with my test and evaluation FNX-45 told me a lot about the gun. The DA trigger displayed quite a bit of "new gun" stiffness but the SA trigger was excellent, having a bit of take-up before breaking crisply at six pounds. I also found that the three-dot sights were large and easy to acquire and fast to align on target.
Accuracy testing was conducted with three brands of factory ammo with varying bullet weight (See "Shooting the FNX-45" on this page. When fired from a rest at 25 yards all three shot to point of aim and produced extremely impressive groups running in size from 1.7 inches to slightly more than 3 inches. Although FN advertises the FNX-45 as a service-type handgun, I found such performance more akin to one of my tuned competition pistols.
As is my SOP, I set out a pair of combat targets and ran the FNX-45 through a series of offhand drills from seven, 10, and 15 yards. While the pistol's DA trigger pull was on the heavy and gritty side, its excellent ergonomics—and its nice SA trigger pull—enabled me to keep the vast majority of the rounds expended inside the IPSC targets' A scoring zones.
The FNX-45 proved to be a very accurate, reliable pistol during my test firing. I was impressed with the pistol's shooting qualities, especially how well it pointed and the low levels of recoil. The latter permitted me to make fast, follow-up shots with ease. The controls were also well positioned and positive in operation.
It should be noted from the spec sheet that the FNX-45 is a rather large handgun and thus its use in police service would be restricted to holster wear by uniformed officers or by tactical unit personnel, unless, of course, you have some rather "large" plainclothes officers.
Paul Scarlata has served as an auxiliary police officer and is a frequent contributor to POLICE.
FNH USA FNX-45 Duty Pistol Specs:
Caliber: .45 ACP
Magazine Capacity: 15 rounds
Overall Length: 7.85 inches
Width: 1.58 inches
Barrel Length: 4 inches
Weight (empty): 33.2 ounces
Sights: Front: white dot; Rear: dual white dots
Finish: Slide: stainless steel (bright or flat black finish)
Frame: polymer (black or dark earth colors)
Grips: Polymer
Features: Ambidextrous safety/decocking levers, loaded chamber indicator, ambidextrous magazine releases, ambidextrous slide release levers, replaceable slide rails, dual cocking serrations, interchangeable backstraps, two spare magazines, accessory rail, carrying box, lock, owners manual.
Price: $809