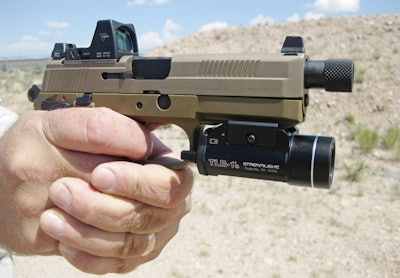 The FNP-45 Tactical is the largest pistol in the FNH USA handgun line, and it offers just about everything a warrior needs in a big-bore fighting pistol. It features a 14- or 15-round magazine, a barrel that can accept a suppressor, a set of high-visibility suppressor sights, a slide-mounted safety that allows a DA/SA pistol to be carried cocked and locked like a Model 1911, and a factory cutout on top of the slide near the rear sight that can be used as a platform for installing a compact red dot optic.
Competition shooters have used optics on pistols for some time, but the FNP-45 Tactical is the first dedicated tactical pistol to be manufactured to accommodate a compact red dot optic. This means that for the first time a pistol does not need to be worked on by a gunsmith to reshape the top of the slide to accommodate an optic.
Add a tactical light from Streamlight or SureFire to an FNP-45 Tactical equipped with a compact red dot and you have an excellent weapon for going into harm's way. You can also attach a suppressor to the barrel and that will allow you to undertake tactical ops without ear protection. The FNP-45 Tactical also comes with a thread protector that can be screwed on to protect the tip of the barrel from damage when you are not using a suppressor.
Great Design
The base FNP-45 is a high-capacity .45 ACP with excellent ergonomics. It weighs slightly less than two pounds unloaded and is 7.87 inches long, 6.33 inches high, and 1.58 inches wide. Note: If you plan on using the FNP-45 Tactical model with a suppressor for SWAT applications, be advised this pistol has a .578 x 28 right-hand thread pattern.
Surprisingly, the FNP-45 series pistols do not feel super heavy like some .45 ACPs. This is a benefit of FN's lightweight polymer design. I should also mention that despite its size the FNP-45 does not feel like a boat anchor. In fact, the FNP-45 Tactical is actually very comfortable to carry fully loaded for long periods of time.
If you are used to shooting a DA/SA pistol or a 1911, you should have no trouble transitioning to the FNP-45 or FNP-45 Tactical. Regardless, once you get some trigger time with this pistol, you will find the FNP-45 to be a piece of cake to shoot. It's incredibly soft shooting. This is important for law enforcement officers who need to deliver accurate follow-up shots in a gunfight.
To date I have tested three FNP-45 base model pistols and one FNP-45 Tactical. The primary differences between both models are the threaded barrel and high-visibility sights on the Tactical model.[PAGEBREAK]
15 Rounds
Some members of my test team found the three FNP-45s and the FNP-45 Tactical to be flawlessly reliable. In fact, one friend of mine has put more than 500 rounds through his FNP-45 base model without experiencing any stoppages.
I haven't been quite so lucky with mine. But stoppages have become a thing of the past since I started using some new 15-round magazines from FNH USA. I believe the new mags have solved my reliability issues with this pistol.
And it's really nice having 15 rounds of .45 ACP in a mag. I am not obsessed with carrying a high-capacity pistol. And yes I believe a true professional should be properly trained to stay in the fight as long as necessary by executing as many combat reloads as required. But it certainly does not hurt to have 15 rounds of .45 ACP ammunition at your immediate disposal.
FNP-45s have reportedly been ammunition sensitive, which is why I recommend you test fire every pistol that you intend to carry on or off duty to make sure that it functions with every brand of ammunition. I say this because you never know when circumstances beyond your control will compel you to use a different brand, bullet weight, or type of ammo. The good news is that FN is in the process of redesigning its .45 ACP caliber magazines so they should function more reliably with all brands of ammunition in the future.
If you are restricted to using a DA/SA pistol, the FNP-45 may be the right tool for you. You can carry it without using the slide-mounted safety and carrying cocked and locked. But there is a benefit to carrying the FNP-45 cocked and locked. You can fire the first shot without having to pull the trigger all the way through.
Shots Fired
I shot and evaluated four different FNP-45 pistols, and I found all four to be incredibly accurate and easy to operate.
Once I test fired the FNP-45 Tactical using standard sights, I decided to try it with various compact optics and other accessories. The results made me a believer in optics for combat handguns.
The first round of testing with optics began as I stood in the ready pistol position with a Trijicon RM05 installed on the FNP-45 Tactical with the hammer cocked and locked. When a friend said, "shoot," I flicked off the safety while I raised the pistol as fast as possible and pulled the trigger while I covered the center chest area of the target with the dot. When I repeated this process again I put the second shot directly through the first bullet hole.
I also tested the FNP-45 Tactical with the Streamlight TLR-1 and with the SureFire X300 weapon lights. My first thought was that the combined weight of the light and the optic might affect the pistol's performance. But that wasn't the case. It handled the optic, a light, and a suppressor with no problems.
I believe the day will come when all law enforcement service pistols will be sold as a package deal with a compact tactical light and a compact red dot optic. The installation of red dot optics on duty pistols should make it possible for a law enforcement officer to dramatically increase his or her hit potential and speed during deadly force incidents. Optics would also make it easier for officers who have difficulty qualifying to dramatically improve their accuracy.
The technology is here. All we need now is support from law enforcement management to motivate the firearms industry to start manufacturing more duty pistols that can accommodate optics.
Before I shot the FNP-45 Tactical, I saw no use for optics on a duty pistol. But now that I have seen for myself how accurate and fast I can be with a pistol equipped with a compact red dot optic I have changed my opinion, and I hope that other gun makers will follow FN's lead and develop duty pistols that are optic-ready.
Nick Jacobellis is a medically retired U.S. Customs Agent and former police officer who was physically disabled in the line of duty while working undercover as a federal agent.
FNH USA FNP-45 Tactical Pistol
Caliber: .45 ACP
Capacity: 15 rounds
Action: DA/SA
Weight (empty): 33.6 ounces
Barrel Length: 5.30 inches
Overall Length: 7.87 inches
Height: 6.33 inches
Width: 1.58 inches
Features: Picatinny rail, .578x28 right-hand barrel end thread pattern for suppressor, supressor sights, accommodates optics, manual safety, decocking lever
Price: $1,395
Related:
FNH USA Brings New Handgun Trio in 2010