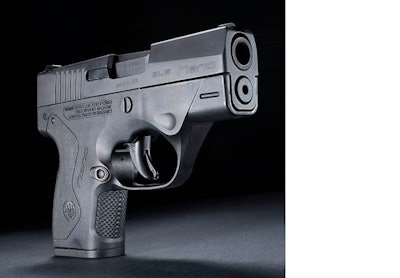 Beretta USA is entering a growing market of 9mm pocket pistols, announcing it will begin shipping the Nano BU-9 in late October.
This modular pistol will arrive with a serial number attached to an inner steel chassis rather than the polymer frame. As a result, owners of the Nano will be able to purchase aftermarket frames in the future without needing an FFL transfer.
The Nano also arrives with interchangeable sights and an ambidextrous magazine release button. A hex screw allows owners to change front or rear sights themselves.
Beretta is also touting the Nano as a pistol that's simple to disassemble. The user can safely disassemble the pistol by first engaging the striker deactivator, a mechanism that eliminates the need to pull the trigger prior to disassembling it. The pistol will retail for $475.
The pistol arrives with a 6+1 capacity and weighs 17.67 ounces unloaded. Beretta has launched the Nano microsite to showcase the pistol.
Related: Beretta's Nano 9mm Overview (video)