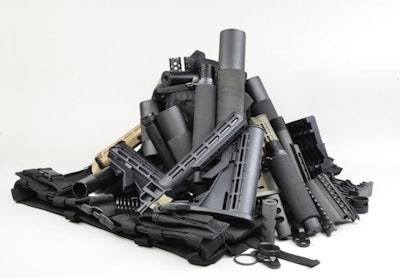 Global Military Gear (GMG) has added 18 new products to its 2013 product line and will launch a business-to-business advertising program by July 1, the company announced.
The 2013 additions to the GMG line include a wide range of AR-15/M-4 carbine stocks, buffer tubes, several two-piece quad rail handguards, free-floating handguards, sling adapters, a two-piece upper vice block, and a 25-pound gun magnet. The new products fill out a line that already included a wide range of stocks; rails; rail mounts; rail systems; bipods; foregrips; optic mounts; sights and magnifiers; iron and back-up sights; sling mounts and slings; tactical vests; holsters; and armorer's tools.
Among the most sought after new products are three different AR15/M4 aluminum skeleton stocks in 8-, 9- and 10-inch lengths, according to the company. These stocks are available either as a kit, which includes the spring and buffer, or just the stock itself. The new skeleton stocks are low-profile, light-weight and provide enhanced performance.