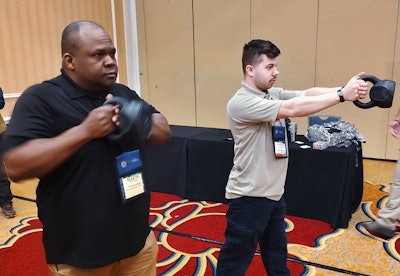 The 2023 International Law Enforcement Educators and Trainers Association (ILEETA) Conference & Expo brought together trainers, subject matter experts, and vendors under one roof this week in St. Louis, MO. The event was filled with courses and instruction, certification classes, and a huge assortment of information about products and services.
The true challenge for anyone attending ILEETA is trying to be in several places at once since there are multiple interesting courses underway at the same time. As I've done before, I tried to catch a little bit of several different presentations.
In some presentations participants sat and listened, while in many others they were tasked to participate. Other classes, like the one I visited taught by Michael Johnson, involved both. Johnson, who is assigned to the Palm Beach County Sheriff's Office (FL) Training Division's New Hire Academy, led a course on improving shooting performance through exercise and dry fire practice. The veteran lawman of more than 40 years demonstrated strength building examples that help shooters, including the use of exercise bands, grip strengtheners, and kettlebells. Then the class broke up into groups and practiced with each piece of equipment.
Ron Yanor, of Adamax Tactical Academy, led a class one morning to teach instructors how to start a breaching training program. The premise is, because of active shooter threats, there is now more of a need for patrol officers to have the fundamental skills for making forced entry. In the session, he discussed commercially-made products for tools and training. But, he also showed how to build a breaching door using locally sourced materials. Plus, Yanor covered using improvised items to breach.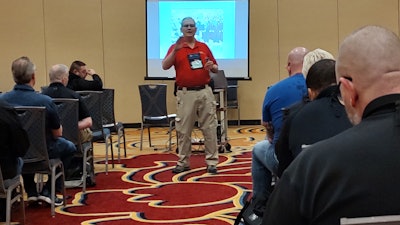 Officer safety considerations extend past just duty hours. So, Brian McKenna, of Winning Edge Training, provided some tips. He covered various situations officers may face when off duty, including if they are involved in an incident and the need to communicate with bystanders and responding officers that they are off-duty cops. He suggested ways they can reduce the chance of taking friendly fire when the first officers arrive on scene, most basic of which can be re-holstering or having someone call 911 and relay that there is an off-duty officer on scene.
Richard Wistocki, of Be Sure Law Enforcement Cyber Training Inc., took a deep dive into school shootings and talked about the significance of leakage, meaning information a shooter places online prior to an attack. He explained 75% of school shooters posted something related online in advance and provided examples by sharing content posted by the Highland Park parade shooter and others. Wistocki walked the officers through how they can obtain warrants for homes and weapons, cell phones, and social media networks and what officers and school resource officers should be looking for as warning signs. In the session, he explained how parents sometimes have a "not my kid" stance and therefore do not monitor their child's online activity. Wistocki discussed why school administrators often do not contact police or their school resource officer when there is a threat made or a student does something that indicates that he or she may be a threat. He also provided his contact information and pledged to be available 24/7 if any of the officers in attendance were faced with a school threat.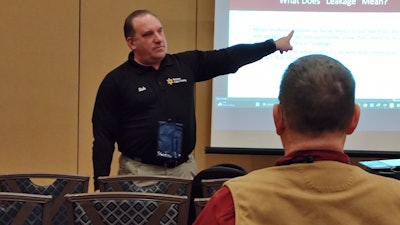 Nicole Florisi, a law enforcement subject matter expert for VirTra, led a course that talked about the human factors involved in critical incidents and the impact of traumatic stress in the investigative process following something like an officer-involved shooting. Florisi, who holds post-master's degrees in human factors psychology and trauma counseling, detailed how officers are treated during the investigation following a critical incident. In the way investigators learned to be more sensitive when working with sex assault victims, Florisi says the same can be done when investigating an officer-involved shooting. The officer is given the authority to do his job, is trained, is tasked with many challenges, and then may unfortunately have to react with lethal force as authorized in his or her role. Investigators should not treat the officer like a suspect from the start and should bear in mind the emotional impact of having been involved in the shooting as they question the officer during the investigation.
If someone wanted to be an ILEETA presenter, what do they need to know? There was even a class, and extended clinic, on that topic. Marie D'Amico, of Legal Force E.T.C. LLC, prepped people on what they would need to know if they were a first-time ILEETA presenter. Other coaches assisted in working with individuals and helping them develop course ideas and content.
While ample course opportunities kept the ILEETA attendees busy, there was still time on Tuesday and a half day Wednesday to cruise the aisles of the expo. Training simulation companies like VirTra, MILO, and Ti Training were on hand and Wrap Technologies, known for BolaWrap, introduced and demonstrated its Wrap Reality, a virtual simulation trainer. Alien Gear, SpiderCuff, Action Target, Crotega, and others were on hand to promote equipment and a host of associations and service providers were also present.