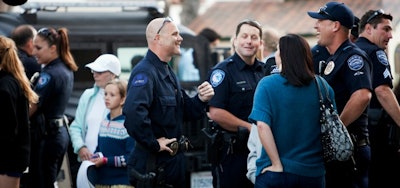 Police departments are starting to move away from measuring success by how many tickets they issue or how many arrests they make. They've realized that the public's perception of safety isn't measured in criminal enforcement actions. As a result, they've embraced community policing, a model that focuses on building relationships and collaborating with those they protect and serve.
Officers who have participated in successful community policing programs often report reduced crime and greater job satisfaction. Yet some departments have struggled to let go of the traditional "us vs. them" approach to crime fighting. "Community policing is how a free society is to be policed. Period," says David C. Couper, a former chief of police in Madison, Wisconsin, author of multiple books, and blogger at Improving Police. "Why is there still resistance to it?"
Community policing isn't about walking around waiting for residents to commit crimes. In fact, according to Ronald Hampton, who spent over two decades in the community relations office with the Metropolitan Police Department in Washington, D.C., many public safety issues, and the perception of safety in a community, revolve around housing, social justice, and economic issues. Instead of looking for people to arrest or monitor, officers should become community organizers of sorts who bring people together to solve problems.
As recently as October 2016, the U.S. Department of Justice issued $119 million in grants designed to help departments create and retain community policing positions. For the model to succeed, however, it's important to understand what community policing is — and what it isn't.
Defining Community Priorities
Laws established by local, state, and federal legislators don't always reflect how a community defines public safety. A big part of community policing involves working with residents to identify which crimes to prioritize. In some cases, that solution may mean de-emphasizing certain statute violations and prioritizing more important matters. In Madison, for example, based on community feedback, officers started responding less to the possession of small amounts of marijuana, freeing up their time to focus on higher priorities.
In Anaheim, California, District Commander Lieutenant Tim Schmidt worked with his community and identified code enforcement and crisis intervention as the primary issues residents wanted police to address. Improving the quality of life in his increasingly diverse community has helped Schmidt's team form better relationships with those they serve.
"I'm not talking about a guy just getting out of his car and just talking to people," says Schmidt. "It has to be constant two-way interaction." To facilitate that conversation, Anaheim established "Coffee With a Cop," a chance for residents to meet with officers and talk about what matters to them.
In a community policing model, officers don't tell residents what their problems are. Residents tell the police how they need them to help. Satisfaction and trust with the police department become more important metrics than citations and arrests.
Still, it's challenging to move beyond metrics that focus on crime solving as indicators of success. Schmidt suggests measuring reductions in call volume and nuisance crimes to determine whether residents feel safer. Others like Couper, however, see community policing as an effort in civic engagement and greater officer discretion that eventually ends in greater public safety.
We're All Just People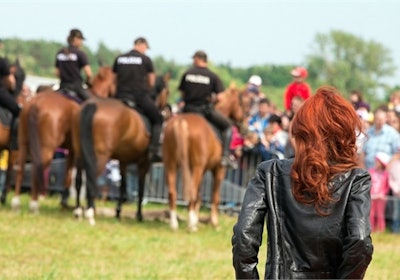 David C. Couper writes in his blog that the police are people, and the people are the police. In other words, police departments are more than just government entities responsible for law enforcement. Programs like the Department of Justice's Community-Oriented Policing Services Office can fund these programs, but police departments have to change from the inside.
Many people currently enter the criminal justice field with more of a warrior mentality, but for those looking into criminal justice careers, the focus should be more on caring for the community. Community policing advocates say there are many ways to reduce crime, but those strategies don't always foster trust within the community. "Community policing is about how officers define themselves," Couper told Yes Magazine. "If police see themselves solely as law enforcement officers, then they'll spend all their time looking for some broken laws to enforce."
A better crime-solving strategy involves less emphasis on crime stoppage and more on the protecting human rights. It also means equipping communities to solve their own problems. Couper uses words like "rights protector," "problem solver," "community worker," "generous listener," and "guardian" to describe police roles. Instead of viewing themselves as the ultimate arbiters of what they perceive to be right and wrong, or what the letter of the law says, they should focus on community-identified problems.
Thomas Thornton, a Baltimore resident, told Newsweek that officers have to go beyond looking as though they're picking on people. Always stopping people to ask, "Where are you going?" or "What are you doing?" isn't relationship building — it's a form of intimidation. Instead, officers should ask, "How are you doing?" and, more importantly, "How can I help you?"
A New Era in Policing
Couper says community policing marks the third era of police reform in America. The first began after Prohibition when the Wickersham Commission was established in 1929. Prohibition had fostered the growth of organized crime as people worked to profit from selling and distributing alcohol. The Wickersham Commission worked on solutions to corruption and police brutality following the repeal of Prohibition.
In 1965, the President's Commission on Law Enforcement and Administration established the importance of preventing crime rather than just enforcing it. In what Couper views as the second era of police reform, the commission found that healthy families, education, counseling services, and job creation played key roles in reducing criminal activity.
This third era of community policing doesn't leave community services to social workers. Instead, officers do their own form of nation-building in the places where they work. It's more than emerging from the rolling fortresses that police cars can become to go around on foot. It's about engaging people in ways that go beyond just incident response.
In the end, community policing is about more than just getting residents and officers to talk to each other. It's about equipping community members to lift one another up — less enforcement, more empowerment.