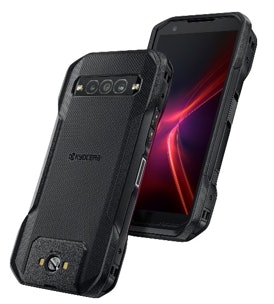 Kyocera, a global leader in rugged devices, has introduced its ultra-rugged DuraForce PRO 3 Android smartphone with comprehensive tools to help first responders who rely on rugged, reliable mobile technology. Now available from Verizon, the DuraForce PRO 3 is certified for Verizon 5G Nationwide and 5G Ultra Wideband for public and private network connectivity.
By offering quality ultra-rugged products with a 2-year warranty along with an expanding ecosystem of accessories, services and solutions, Kyocera has worked with first responders to maximize productivity and lower their technology budgets. In fact, according to VDC Research, rugged smartphones have been proven to deliver a 53% lower total cost of ownership (TCO) than non-rugged smartphones when supporting mission-critical frontline mobile applications.
The DuraForce PRO 3 meets MIL-STD 810H and IP68 dust and waterproof protection standards. The phone's X-frame structure adds reinforcement to withstand drops, dirt, water and more. It can also be washed and sanitized. Featuring the Qualcomm Snapdragon 7 with an octa-core chipset and 6GB of RAM, DuraForce PRO 3 enables fast response times with quick access to data, and easily integrates into any new solutions being deployed.
This smartphone gives law enforcement full connection to Kyocera's comprehensive suite of accessories, vertical-specific services, and partners. Officers receive customized device provisioning, lifecycle management, and a dedicated customer service line for reliable support. Additionally, Kyocera provides expedited device replacement options, when needed, to help ensure law enforcement agencies and officers are up and running with limited or no downtime. Kyocera is an Android Enterprise Gold Partner, which certifies the company's excellence in customer support, product excellence and performance.
With the ultra-rugged DuraForce PRO 3's enterprise-level durability including Class I, Div. 2 hazardous location protection, Wi-Fi 6E, 5G speeds, dual SIM for public and private network support, enhanced security features, and an outdoor-visible display, officers can focus on their missions without worrying about technology interruptions.
Designed for all-day use, the DuraForce PRO 3 features a removable and replaceable rugged battery (4270mAh lithium polymer) with a slide-lock to prevent unintended displacement.
Kyocera and Visual Labs have partnered with many police departments for a body-worn camera solution using Kyocera's rugged smartphones as law-enforcement demand continues to grow. Compact enough to work as a body-worn device with programmable buttons, DuraForce PRO 3 is designed to help first responders work faster and smarter—ensuring reliable mission-critical communications with MCPTT capability, loud-clear 100dB+ audio for noisy environments, AI-enhanced dual-mic noise cancellation, all-day replaceable battery, plus a scratch- and shatter-resistant display designed for outdoor visibility with glove and wet-touchscreen operation.
See a full list of DuraForce PRO 3 features here.