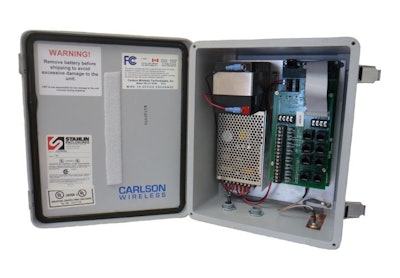 Carlson Wireless introduced the Trailblazer 5.9 earlier this month at the APCO convention in Philadelphia several days after receiving FCC certification. The product, one of the first of its kind certified to operate in the 5.9 GHz frequency band, was custom-designed for departments of transportation.
The Trailblazer 5.9 is a point-to-point solution designed for back-hauling two-way radio communications or Dedicated Short Range Communications (DSRC) projects because of its extraordinary resistance to interference and weather. The Trailblazer itself provides ultra-low fixed latency and rugged reliability, according to the company.
Carlson developed the 5.9 after being approached by a transportation customer who expressed a need that had yet to be met by any other product. The 5.9 offers a unique blend of video, telemetry, Ethernet, voice, and data. This varied arsenal of capabilities heightens efficiency when reporting road closures, issue traffic alerts, emergency warnings for short-range vehicles, two-way radio backhaul, leaded line replacement, POTS line wireless transport and Ethernet transport.
The 5.9 GHz frequency band offers a full 70-megahertz of spectrum set aside by the FCC especially for Intelligent Transportation Systems (ITS). This particular band is ideal for both the public safety and departments of transportation industries because it can support the high data rates that traffic applications require.
The 5.9 offers a plug-and-play setup of a fully integrated device. It is solar powerable and comes in a sturdy weatherproof enclosure for roadside deployment.
The FCC divides the 5.9 GHz band into seven 10-megahertz channels and issues non-exclusive licenses to government and public safety entities to operate on the band. Applicants can file electronically with the FCC using FCC Form 601.
Licensees need only register their sites, channels and other relevant data on a Universal Licensing System, coordinating with the Telecommunications and Information Administration (NTIA) for proximity to government radar sites.