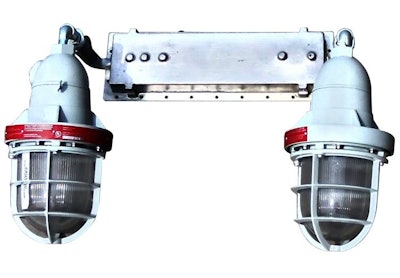 Larson Electronics' has released the Magnalight EXP-EMG-12W-2L emergency light with a battery backup that provides 90 minutes of light operation in the event of power failure or any incident that results in the interruption of current to the light.
The Class 1 Division 1, Class 2 Division 1 and 2 approved emergency light contains two 6-watt LED lamps, a high-temperature nickel-cadmium rechargeable battery, and is designed to provide up to 10 years of operation. This emergency light offers an ideal solution for hazardous locations requiring a dependable source of illumination.
The EXP-EMG-12W-2L emergency light, which the company claims is explosion proof, meets National Electrical Code and Life Safety Code emergency lighting requirements.
The light, which is designed for hazardous workspaces, uses normal external power to illuminate its two 6-watt LED lamps. In the case of power outages or interruptions, the unit automatically switches to a battery backup that powers the unit for 90 minutes or until power is restored. Once power is restored, a built-in charger will return the unit to a fully charged state within acceptable UL time limits.
Protection for the battery comes from integral solid-state circuitry that senses a low-voltage condition and turns off the unit before battery damage occurs from deep discharging. An integrated pilot light allows operators to easily verify the presence of AC current, and a test switch provides simple confirmation of proper emergency operation. Constructed of copper-free aluminum and finished in an epoxy powder coat for resistance to corrosion, the EXP-EMG-12W-2L can withstand temperature variances ranging from zero to 40 degrees Celsius.
The LED lamps are highly resistant to damage from shocks, impacts and vibrations and are protected by impact-resistant glass globe lenses. This unit is designed to operate with voltages ranging from 120-277 volts at 50/60 Hz to allow easy connection over a wide array of locations and power configurations.