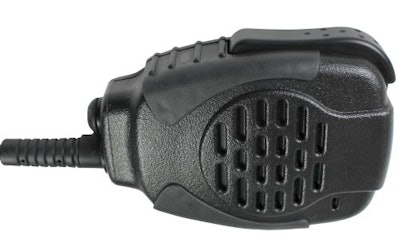 Pryme Radio has released an upgraded SPM-2200 Trooper II speaker microphone with an enhanced waterproof rating (IP57), so it can be submerged in water up to 3 meters deep for up to 30 minutes, the company announced.
The mic also arrives with a GPS receiver that makes it compatible with the ICOM iDAS systems or the Kenwood FleetSync/NexEdge systems.
Pryme has also debuted an updated tactical bone conduction headset, which replaces the one they introduced last year. It has bone-conducting speakers that vibrate the mandible of the jaw, bypasses the eardrum and produce audio directly to the inner ear.