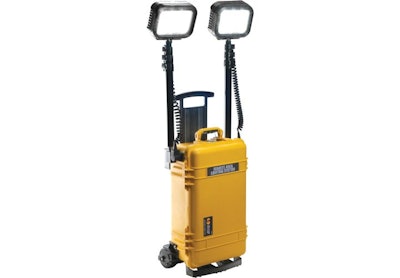 Pelican Products' Advanced Area Lighting Group has rolled out the 9460RS and 9470RS (Remote System) remote controlled, multi-terrain versions of their Remote Area Lighting System (RALS).
The 9460RS and 9470RS are part of Pelican's line of rechargeable area lighting systems that provide convenient and ecologically responsible alternatives to wasteful generator powered lights, according to the company.
Both models include a set of two key chain remote control units that allow the user to turn the system on or off from 60 feet away. They have also been engineered with the Intelligent Control System which calculates and displays current battery life, allowing the user to regulate the intensity of the light and choose the desired run time. In addition, they feature an integrated, multi-terrain trolley with 1.5-inch polyurethane wheels and a pull handle for easier transport across gravel, dirt and rough surfaces. Also included is a 12-volt power supply port.
Built with versatility in mind, the 9460RS RALS features two swiveling telescope masts (each extends to nearly 6 feet) and two 360-degree articulated light arrays. The system's next-generation LEDs combine to radiate up to 6,000 lumens. Powered by a rechargeable battery, the system offers up to seven hours of peak brightness with a variety of extended run times. The 9460RS arrived in a 1510 case.
For large-area illumination, Pelican has created the 9470RS RALS, which features 24 LEDs (six per head) mounted on four 6-foot, telescoping light towers. The heads include variable brightness settings and are powered by a 12-volt, sealed, rechargeable battery and combine for a peak output of 12,000 lumens for up to seven hours. It arrives with a 1610 transport case.
Both lighting systems are available in either black or yellow cases.