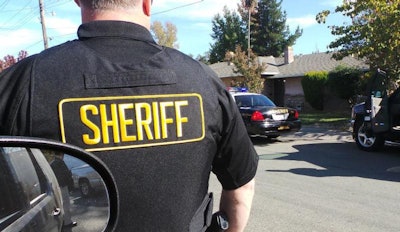 The Sacramento County (Calif.) Sheriff's Department and other area agencies conducted a one-day sweep of Sacramento County using Vigilant Solutions' license plate recognition (LPR) systems and historical LPR data to yield impressive results.
Agencies conducted Operation Trick or Treat on Wednesday, October 30th, to demonstrate the effectiveness of license plate recognition systems installed on patrol cars and to highlight how the use of historical data is useful not only for investigations, but also in coordinated patrol operations.
Sacramento Sheriff's Office Sgt. Kyle Hoertsch coordinated the effort. "The operation far surpassed my expectations," he says. "We scanned around 70,000 license plates which yielded over 400 vehicles of interest in only six hours. Over 25 recovered stolen vehicles and around the same number of arrests were made.
"The arrests included a number from occupied stolen vehicles, but the majority were made possible through the use of historical LPR data from Vigilant Solutions as well as our own agency data to locate individuals with outstanding warrants, including many DUI's. In addition to these results, we also located a missing person vehicle, a stolen tractor trailer out of Tennessee, and we reunited two owners with their stolen cars."
The operation was a coordinated effort among several agencies, with Sgt. Hoertsch taking the lead. "It was the historical data that was very helpful to us in locating individuals with outstanding warrants," Hoertsch says. "Many of these individuals are difficult to locate, and the historical LPR data allowed for us to identify probable locations for these wanted individuals. I can say that Sacramento County is a safer place as a result of our operation."
The owner of one of the stolen vehicles that was recovered and returned commented that she was very grateful for Sacramento County Sheriff's efforts and for the technology that allowed her car to be returned to her. When asked if she minded having her license plate scanned, she said, "By all means, please do."
Founder and President of Vigilant Solutions, Shawn Smith, was present for the operation. "It was impressive to see our technology in action, and we applaud Sgt. Hoertsch for taking the initiative to coordinate this sweep and send a message to the criminals within Sacramento County that if they commit a crime, they will be caught," Smith says. "The criminal elements in Sacramento County will not enjoy the safe haven they may have in other locations where LPR data is quickly deleted and where the use of commercial LPR data for law enforcement purposes is prohibited."