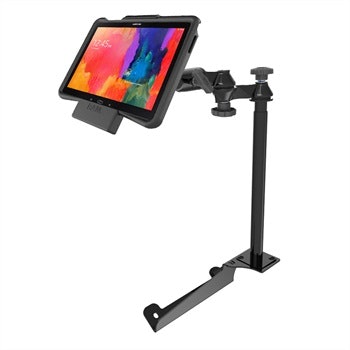 RAM Mount's new IntelliSkin is a protective system for public safety tablet computers that works in tandem with the company's Tough-Dock mounting system to give users quick-and-easy access to their devices.
Using an IntelliSkin encased device in combination with a Tough-Dock, an officer can quickly remove his or her tablet and return it to the dock using just one hand. The Tough-Dock's spring-loaded grip works with the Smart-Skin's rubberized skin to snugly hold the device while releasing it quickly when needed.
IntelliSkin shields tablet computers from drop damage and scratches. The protective system also features an integrated connector, which is molded directly into the skin. This prevents damage to the connector from repetitious docking and undocking common in field applications.
The IntelliSkin protection system can be adapted to fit new evolutions of tablets as they are released. Currently, IntelliSkin is available for the iPad Air and Samsung Galaxy.
RAM Mount's Tough-Dock offers power and port expansion for tablets. It can be used in a vehicle or even inside a station. Adding a dock in the station allows officers to seamlessly flow between field and office operations, saving time and money for their agencies. The Tough-Dock is available with a keyed lock to provide an added level of security for the docked device.
RAM Mount products are 100% manufactured in the USA.