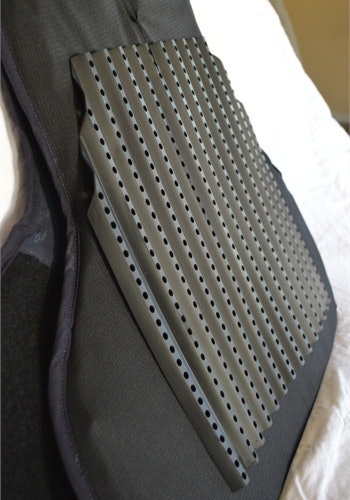 On Nov., 2013, at 9:20 a.m., an active shooter attacked Los Angeles International Airport, targeting TSA, killing one and wounding two. After the suspect was neutralized, Sgt. Jeff Shelton and his tactical unit continued to search the airport for additional suspects. After several hours of sweating beneath their heavy armor and tactical gear, the team began to dehydrate and overheat, and necessity being the mother of all invention, Shelton discovered a way to passively and effectively ventilate body armor. Shelton is now marketing his body armor ventilation invention as the TacVent.
The TacVent achieves separation of the armor from the wearer's body with space rather than material, using a corrugated panel of soft, rubbery plastic comprised of vented, vertical grooves. This panel pushes the armor away from the body by a half inch, which allows heat to escape from the torso and flow upward, uninhibited and out of the vest. Shelton says this effect cools the wearer's body surface by up to 14.5 degrees.
The TacVent is not a garment to wear or strap on, and the tension of a vest and the TacVent's rubbery surface ensure a secure fit all day with no shifting. Users also have the option of using provided zip ties for added security, for attaching the TacVent to outer carriers, or for easy addition of a rear panel.
Another benefit of the TacVent, according to Shelton, is trauma attenuation. Shelton says ballistic clay testing showed that with the TacVent, blunt force damage to the clay and the carrier was minimal. Without the TacVent during the same ballistic clay testing, the carrier was torn significantly and there was massive damage to the clay underneath the vest.
Trimming and customizing of a standard XL TacVent is extremely easy, requiring only a blade or a pair of scissors. The TacVent can be cleaned with just a simple wipe-down.
The TacVent, made in the USA, is available at TacVent.com. It retails at $34.99 for one panel, $59.98 for two, with additional discounts for bulk orders. TacVent will honor the discounted price for those customers who later opt for a second panel.