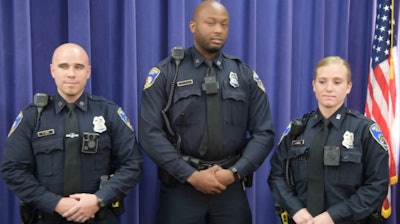 More than 150 police officers in east, west and central Baltimore were equipped with body cameras Monday — instructed to begin recording their interactions with the public as a first step toward department-wide use of the technology next year.
Top commanders described Baltimore's two-month pilot program in broad terms during a news conference at police headquarters Monday. The program will test cameras from three vendors before one is chosen for use citywide. Officers will be responsible for activating the cameras before interacting with civilians and for uploading the footage to cloud-based storage provided by the vendors. People being recorded can request that officers turn off their cameras, officials said.
The three city vendors include Taser International Inc., Panasonic, and Vievu, the Baltimore Sun reports.