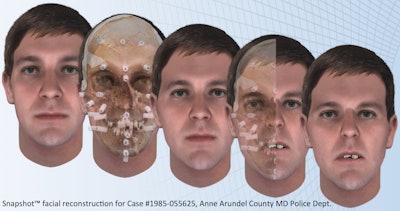 Parabon NanoLabs' new Snapshot Facial Reconstruction Service produces accurate antemortem composite images of deceased persons from skeletonized remains. The service combines, for the first time, two complementary methods of estimating appearance from skeletal evidence: DNA phenotyping and forensic facial reconstruction.
Snapshot phenotyping algorithms are used to predict a decedent's appearance using DNA extracted from bone. Independently, a traditional facial reconstruction is performed wherein tissue depth markers are physically applied to the decedent's skull, based on DNA-determined ancestry and estimated body weight, to produce a prediction of face shape from cranial morphology. The two predictions are then digitally combined into what Parabon believes are the most fully informed recreations of antemortem appearance ever produced from skeletal remains.
Earlier this month, police in Anne Arundel County, MD, released what is believed to be the first published composite image ever produced by combining DNA phenotyping with forensic facial reconstruction. Parabon developed the composite for a 1985 case in which a victim's unidentified remains were found in a metal trash container during construction of a local mall. Although the victim has not yet been identified, Detective Jason Dipietro of the department's Cold Case Homicide Unit believes Snapshot has greatly increased the odds of a positive ID.
"Snapshot is helping us make progress on a number of cold cases that were previously at a standstill," he stated. "The facial reconstruction for our 1985 John Doe case could be the key to identifying this victim and uncovering who is responsible for his unsolved murder." [Those with information in the case are asked to call the Anne Arundel County Police Cold Case Unit at 1 (410) 222-4731.]
Thom Shaw, Forensic Artist at Parabon, who spearheads the new offering, says the unidentified Anne Arundel victim provides compelling justification for combining the two approaches, noting that DNA phenotyping models are tuned to explain only normal variation in appearance, whereas traditional facial reconstruction lacks critical phenotypic information that is encoded in DNA. "As this case illustrates, enhancing a Snapshot composite with information taken directly from a subject's skull shape offers the potential to capture unusual traits, such as this individual's malocclusion, which would be difficult to predict from DNA alone. Conversely, Snapshot brings phenotype predictions to the facial reconstruction process that are generally not available." He concluded, "We're confident this combined service offering will result in many identifications that simply would not have been possible otherwise."
Parabon NanoLabs is a vertically integrated DNA technology company that develops next-generation forensic and therapeutic products, which leverage the enormous power of DNA. Staffed by a team of scientists and technologists, with expertise ranging from bioinformatics and chemistry to computer science and pharmacology, Parabon is bringing to market new products and services made possible by recent advances in DNA sequencing, analysis and manufacturing technologies.