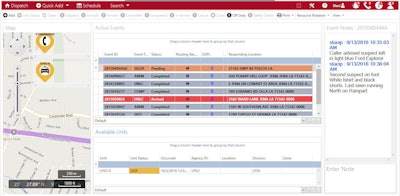 PTS Solutions Inc., a leader in public safety software, has announced the upcoming release of the all new Platinum CAD (Computer Aided Dispatching) software.
Platinum CAD is cutting edge software, intended for use in even the busiest of 911 dispatching centers. With Platinum CAD, users will have access to extensive customization and features including:
Multi-agency dispatching and routing
Integrated NCIC
Dispatch using drag to event, drag to map, manual entry, or guided command line
System and event notifications including SOPs and BOLOs
Automated resource recommendations based on unit availability, location, and capabilities
Event scheduling
Shift management
User configurability
Attach any file type to an event including video
"Platinum CAD is the culmination of the most extensive new development project for PTS Solutions in over 10 years," said PTS President Dave Fuqua. "We have an amazing new product that has more features and customization capabilities than even we originally imagined."
The system was carefully developed using the latest standards from the APCO and the IACP. In addition, PTS developers utilized the National Information Exchange Model (NIEM), which means Platinum CAD is ready for advanced information sharing.
"We will officially unveil the product in our hometown of Baton Rouge October 26, 2016 at the Louisiana Association of Chiefs of Police," Fuqua said. "If you are in the market for new dispatch software, Platinum CAD is a must-see."
For additional information on the all new Platinum CAD contact PTS at marketing@ptssolutions.com. For more information about PTS, visit www.ptssolutions.com.