WatchGuard Inc., a leading provider of mobile video solutions for law enforcement, officially opened the doors of its new worldwide headquarters to members of law enforcement, state and local dignitaries, WatchGuard board members, executives, and employees on Monday evening, June 18th in Allen, Texas.
Guests started the evening by attending a private discussion with former President George W. Bush during which he shared lessons in leadership; provided encouragement to law enforcement; and answered questions moderated by Robert Vanman, WatchGuard Founder and CEO. The ribbon-cutting ceremony featured comments from retired Dallas Police Chief and WatchGuard board member, David Brown, City of Allen Mayor Stephen Terrell, and Mr. Vanman.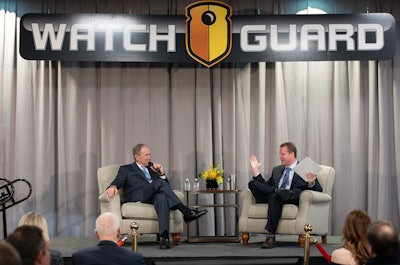 The 140,000-square-foot, two-story facility accommodates approximately 500 employees and all departmental work areas, including a 43,000-square-foot sophisticated manufacturing facility where all of WatchGuard's products are assembled. The Brent G. Robertson Engineering Wing with its attached state-of-the-art engineering laboratory is where WatchGuard's in-car and body-worn camera systems are designed. The laboratory features a number of specialty rooms including a temperature chamber room, 3D print room, anechoic chamber room, camera dark room, and a prototype shop for a Computer Numerical Control (CNC) router. The facility also includes customer-accommodating elements like a high-tech product experience room, large training rooms, and a drive-in vehicle installation and service garage with an officer lounge.
"We designed our facility to attract and retain employee talent by creating a beautiful and comfortable environment that improves the work-life of employees," said Vanman. "Employee spaces were carefully planned for comfort and include sit/stand work surfaces, 100% dimmable LED lights, and speakers that generate white background noise to reduce audible interruptions."
Employee amenities include a fully equipped fitness center, locker rooms with showers, recreation center, indoor racquetball court, outdoor basketball court, greenspace with shaded pavilions, an in-house medical clinic for employees and their families, a chapel/mother's room, numerous break rooms, and a spacious lunch room with a catering kitchen where employees can purchase fresh food brought in daily by a local market cafe. All beverages are free for employees, including canned sodas, juices, fountain drinks, and espresso and cappuccino coffees.
The 12-acre campus was designed around a two-phase plan. The second phase will be another 72,000-square-foot wing that will accommodate an additional 250 employees, which is anticipated to begin in the next few years.