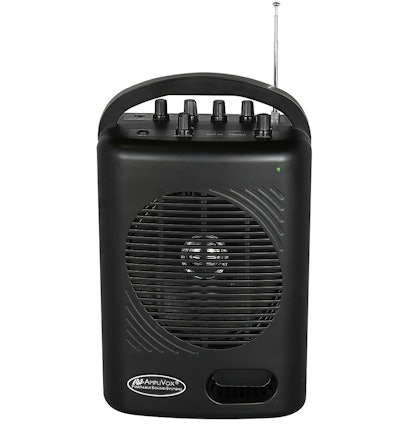 AmpliVox Sound Systems has launched a next-generation version of its SW245B Dual Audio Pal, a Bluetooth-equipped compact sound system for audiences of up to 300 people. The ultra-portable 50W Dual Audio Pal delivers crisp, clear sound from up to two microphones at once, and also streams music and other audio for all types of indoor and outdoor events.
Weighing just six pounds and running on a rechargeable battery, the Dual Audio Pal can be easily carried to classrooms, school yards, group tours, meetings, and other settings. It comes with three styles of wireless microphone (handheld, headset, and lapel), each compatible with the built-in single channel VHF receiver. The wireless system has a range of 100 feet. An additional wired microphone input allows dual presenters to use the PA at the same time.
The Dual Audio Pal offers a wide range of multimedia capabilities, including Bluetooth streaming, a media player with USB/SD inputs featuring recording capabilities, an auxiliary input for wired connection to an external audio device, and an AM/FM radio with remote control. The unit includes an additional port below the main speaker for enhanced bass and sound projection.
For more information about AmpliVox portable sound system products, visit Ampli.com.