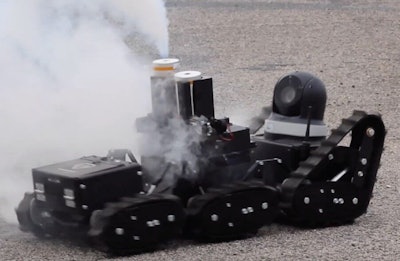 Transcend Tactical, a company focused on saving the lives of civilians and police officers during tactical situations, has launched a gas deployment system that can be added to the company's Vantage robot. It is made to safely deploy two hot or cold gas grenades remotely and with mobility so officers can deploy hot gas deep within a structure, wherever and whenever desired. The company says that as another alternative to deadly force, a gas system can hinder an armed suspect.
A SWAT captain from California said, "During certain tactical situations, I can roll the Vantage robot up to a subject and use the video and two-way audio to try to talk him into surrendering before deploying the gas. This removes the proximity stress and randomness of throwing a cartridge. It's definitely a great alternative to employing deadly force."
Transcend's gas system has been tested by law enforcement and has been sold to multiple clients. A commander from Colorado stated, "It is a major advantage to have a gas system option. We can get it into a house and position it how we want it and can even deploy flash bangs from it. There's no need for an officer to go into a hostile situation with his gun drawn and risk shooting a suspect or being shot."
The Transcend Vantage Gas System, which has an encrypted digital signal, can currently deploy two Combined Tactical Systems hot or cold gas grenades individually with other options coming soon. It has a simple switch deployment and, since it is mounted on the Vantage robot, it can easily climb stairs.
Transcend Tactical has developed its Vantage robot at a price point designed to make it affordable for any agency that could benefit from it.
For more information, contact www.TranscendTactical.com.