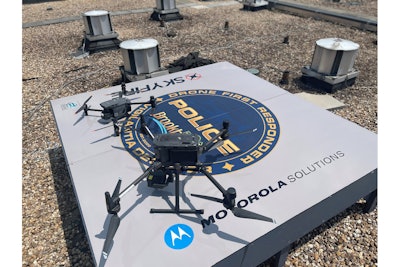 The Brookhaven (GA) Police Department has received a Beyond Visual Line of Sight (BVLOS) waiver, specifically for a Drone First Responder (DFR) program.
Brookhaven PD is now the first agency in the southeast to be authorized by the Federal Aviation Administration (FAA) to fly Beyond Visual Line of Sight (BVLOS) in an urban area. FAA regulations usually require drone operators to maintain a visual line of sight of drones at all times while in flight. The BVLOS authorization allows the department to fly drones to an emergency incident beyond the line of sight of the pilot. This allows the department's drones to fly as first responders to many more emergencies across Brookhaven, often arriving before officers on the ground.
"Our team has been hard at work since the first flight to get us to this point and we look forward to bringing this game-changing technology to more neighborhoods in our community", says Brookhaven Police Chief Gary Yandura.
The Brookhaven PD's DFR program is closely modeled after the Chula Vista (CA) Police Department's internationally recognized DFR program. First launched in April 2021, Brookhaven PD's use of drone technology allows the department to launch a drone to scenes inside a geofenced area from strategically placed launch areas. The drone arrives on the scene first 50% of the time with an average response time of under two minutes. The drone's camera transmits a livestream to officers allowing them to gain real-time situational awareness of events on the ground before arriving.
"We are thankful to our vendor partners at Skyfire Consulting and Motorola Solutions Cape, for their continued support and professional stewardship. We would not have been able to come so far, so fast without their support and expertise.", says Lt. Abrem Ayana, UAS Program Manager.