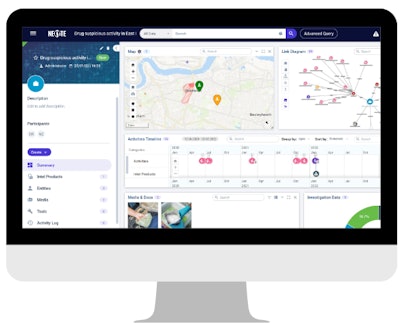 Law enforcement agencies face new and evolving challenges daily. The demand for faster, better service with fewer resources requires adopting technology that provides a unified view of data, turning information into insights, and increasing collaboration. There are many methods for managing and analyzing big data but increased budgetary constraints and officer attrition creates immense pressure for agencies to get it right. The sheer volume and diversity of data make it difficult to identify relevant information and allocate resources promptly. Siloed information can create roadblocks to collaboration and information sharing both inter and cross-agency, resulting in important data being missed or overlooked. This can make identifying patterns or connections between different types of crimes or criminal activity difficult. To find the needle, you need the haystack.
NEXYTE is a scalable, low-risk, all-source decision intelligence platform that accelerates investigations by fusing, enriching, analyzing, and visualizing disparate data sets.
The Problem
While there is no shortage of data available, turning that data into valuable insights often requires significant resources and expertise. Three key challenges law enforcement agencies encounter when managing and analyzing big data are:
Data Volume and Complexity: One of the biggest challenges for law enforcement agencies in managing and analyzing big data is dealing with the sheer volume and complexity of data. With the growth of digital devices and technology, the amount of data generated is increasing exponentially, making it difficult for agencies to collect, store, and analyze all of it.
Data Standardization and Interoperability: Different data sources may use different formats, structures, and languages, making it difficult to combine and analyze data from disparate sources. Additionally, there may be limited or no interoperability between different systems, preventing law enforcement agencies from sharing data and collaborating effectively with other agencies. This lack of standardization and interoperability can lead to data silos, duplication of effort, and missed opportunities for analysis and collaboration.
Data Security and Access Control: Another challenge for law enforcement agencies is ensuring data security and access control across different technology platforms. Access to data may be limited by varying security protocols, policies, or permissions, making it difficult for analysts to access and analyze data from different sources.
Threats are ever-evolving, and the challenges in managing and analyzing big data are multifaceted and complex. Addressing these issues requires investing in modern technology solutions that increase collaboration and efficiency. Advanced analytics software can uncover suspicious patterns and hidden connections within data and enable collaboration with real-time information sharing across agencies.
The Solution
The NEXYTE decision intelligence platform is designed to create greater efficiencies for law enforcement by automating and optimizing the decision-making process. With NEXYTE, users can unify their investigations into a single-pane-of-glass view. The platform leverages advanced technologies like artificial intelligence and machine learning to give analysts the insights they need to make better, more informed decisions.
Traditionally, intelligence analysts have spent significant time collecting data from various sources and manually correlating and analyzing it. This process is time-consuming and prone to errors. In contrast, the NEXYTE platform automates data collection, pulling structured and unstructured data from disparate sources and using machine learning algorithms to analyze and extract previously unattainable insights. This saves analysts significant time and allows them to focus on higher-level analysis.
Out-of-the-box enrichments automatically extract and correlate metadata from virtually all media types, including natural language processing (NLP), OCR data extraction, speech recognition, audio transcription, and video analytics capabilities. Results are visualized on a widget-based display, allowing effective data exploration and immediate insights. Users can also decrease the time to intelligence by leveraging pre-built data connectors to third-party providers such as Cellebrite. The automatic fusion and enrichment of disparate data provides a holistic view and enables inter- and cross-agency team collaboration within a real-time investigative workspace.
Data security and access control are paramount to maintaining trust and credibility within any agency. NEXYTE includes controlled user permission access, auditing, and industry-standard data security, providing assurance and transparency that sensitive data is safeguarded from unauthorized use.
Use Case
A leading intelligence unit within a government agency specializing in combatting organized crime faced significant and increasing corruption nationwide.
Data Challenge: The agency had access to large volumes of diverse data sources, including structured and unstructured data, but could not fuse the information into one unified view to extract actionable insights and uncover illicit activities.
Analysis Challenge: The intelligence unit employed time-consuming and ineffective investigation processes characterized by a manual approach to analyzing data, assessing risks, and mapping connections between suspicious entities. Using various siloed intelligence tools across different platforms to consolidate data into a comprehensible and usable representation was arduous. They struggled to detect hidden links, suspicious patterns, and other risk factors in a timely manner.
The agency turned to NEXYTE, Cognyte's decision intelligence platform, to accelerate investigations and improve case resolution rates. NEXYTE provided a cohesive view of the organization's disparate data sources, encompassing both structured and unstructured data. By fusing all relevant sources, including diverse formats such as PDF, audio, image, and video files, into one investigation workspace, NEXYTE enabled investigators to invest their time in high-value tasks rather than manual data correlation and analysis.
NEXYTE generated enriched profiles for every entity of interest and mapped the connections between entities. This allowed investigators to proactively discover hidden links between entities of interest and easily detect their illicit activities. NEXYTE's investigation workspace enabled quick and intuitive data exploration using visual widgets, filters, and tags.
Using NEXYTE's built-in Dynamic Data Modeling (DDM) studio, the intelligence unit was able to modify how the platform ingests and presents data to users to meet the agency's unique investigation and risk management needs. The agency used NEXYTE to tailor and implement their machine learning models to generate an automatic risk score for each suspect profile, allowing investigators to prioritize their work and increase efficiency by homing in on the most relevant leads.
Three key investigation accelerators powered by NEXYTE are presented within this case study:
1) Leveraged unstructured data such as text within PDF files with automated indexing, entity extraction, and the ability to link the source to related entities within the system.
2) Increased speed to intelligence with pre-built connectors to data sources, such as Cellebrite, to view previously disconnected data within a single pane of glass view.
3) Harnessed the power of machine learning to automatically detect suspicious patterns, discover new investigation leads, and score suspect profiles based on risk factors.
NEXYTE provided fast results—within three days, the organization managed to find and uncover the identity of a "straw man" who played a crucial role in a major organized crime operation that the agency had investigated for three years.
In conclusion, law enforcement agencies face significant challenges when managing and analyzing big data. These challenges include siloed information, difficulty collaborating in real-time, and the need to turn information into actionable intelligence in less time and with fewer resources. Investing in modern technology solutions, like the NEXYTE decision-intelligence platform, can help law enforcement agencies to overcome these challenges and improve their ability to identify and respond to threats more quickly and effectively.
Natalie Kramer is an experienced marketing director at Cognyte, with expertise supporting the mission of law enforcement agencies through intelligence analytics.