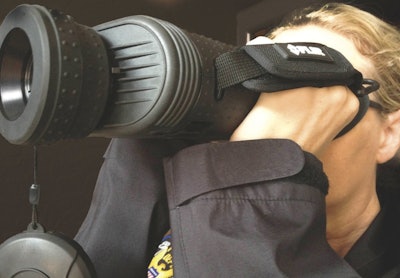 FLIR Systems has been designing thermal imagers since 1978 and has been an industry leader for many of those years. I was happy to be able to test and evaluate one of its newer products, the BHS series Bi-Ocular Handheld Thermal Camera and Video Recorder, which is a handheld system specifically designed for law enforcement use.
The BHS series Bi-Ocular System's rugged design allows heavy use in all climates, so it can be used by any agency, any time of year. Because it's all weather sealed, the unit is even submersible when fitted with one of three quick connect lenses (35mm, 65mm, 100mm). And the thermal device has the capability to easily overcome obscurants such as dust, smoke, total darkness, light fog, and foliage.
This camera features 2x and 4x zoom capabilities, long battery life, and an ability to run on rechargeable or AA batteries. Its ergonomic ambidextrous design allows easy access to display brightness, white hot/black hot display, capture button, and zoom. Additionally, the BHS series could be fielded for approximately two days on the standby mode before needing recharging, as opposed to 4 to 6 hours while turning it on and off.
I was impressed with the BHS Series device's camera and video capability. I experimented with the video and snapshots in an underground tunnel in total darkness. While conducting a sweep for evidence after an armed suspect had been located inside, I was able to quickly capture high fidelity pictures and store them on a removable SD card. They were very clear and the pictures and video obtained were rapidly transferred to the PC using the USB 2.0 connection. The device's use as a camera in law enforcement proved to be a valuable tool.
I would like to add that, having been deployed overseas, I understand the benefit of layering your observation platforms. Any device has limitations and capabilities that another might not have. Using multiple types of devices will speed the process of identification and increase officer safety.
If I had to change anything about this product it would be the manual focus. It is useful and precise if you have time to focus it. However, the amount of time to refocus is significant. In an environment where you need to repeatedly change focus from objects near and far this could become problematic. But this could be mitigated by layering your observation platforms, including designating someone to simply use his or her eyes.
Overall, I found FLIR's Bi-Ocular Handheld Thermal Camera and Video Recorder to be a valuable law enforcement tool.
FLIR BHS Bi-Ocular Handheld Thermal Camera and Video Recorder Specs:
Thermal Technology: Micro bolometer sensor for increased image clarity
Construction: Rugged design for the demands of law enforcement operations
Lenses: Interchangeable quick connect lenses 35mm, 65mm, 100mm
Modes: White hot or Black hot display
Zoom: 2X and 4X
Display Brightness: Five settings
Interface Capability: USB 2.0 Connection or SD card—Rapid transfer of images and video from camera to a PC
Upgrades: Software upgrades in the field via SD card
Price: $6,089 starting price; lenses for $2,000–$5,000
Cody Dikeman has been on the Scottsdale (Ariz.) Police Department SWAT team for 10 years and is a Marine Corps combat veteran.